Thousands of children in north west England and north east Scotland had to be sent home from school after their teachers failed to make it in.
But despite a temporary respite tomorrow forecasters are warning of more snow overnight with up to eight inches possible on higher ground across wide swathes of northern England and Scotland by Thursday.
The Met office has issued a severe weather warning stretching from the Peak District of Derbyshire to the north of Scotland as a band of low pressure moves in from the Atlantic.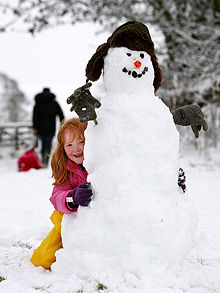 People in exposed rural parts are being warned that drifts of more than a foot are possible with winds of up to 40mph expected in the early hours of Thursday.
Meanwhile motorists are facing prolonged periods of freezing fog increasing the risk of accidents on the roads and threatening major delays.
While much of the Midlands should expect a dusting of snow, southern areas of England are expected to experience rain, forecasters say.
More than 200 schools were closed in the North West of England alone on Tuesday after just an inch of snow fell overnight, with Lancashire, Bury and Bolton the worst affected.
In Ramsbottom, near Bury, children made the most of the day off to go sledging but there was misery for thousands of people in Kelso in the Scottish Borders who were left without heating after gas supplies failed.
With engineers working to restore supplies many took advantage of an oil-heated drop-in centre to warm up and use temporary cooking facilities.
Almost 100 schools were also closed in or partially closed in Aberdeenshire with reports of five inches of snow on the ground.
Temperatures are expected to drop to -4C (25F) overnight before the main band of snow moves in.
"We could have as much as 20cm (8in) in the worst affected places - possibly more," said Barry Grommet, a Met Office forecaster.
"It will be windy too, with winds of 30 to 40 mph perhaps."
Meanwhile Ladbrokes, the bookmakers, trimmed the odds offered for a white Christmas in London to 11 to four from three to one following a run of bets. It was once offering seven to one.