Los Angeles - A wildfire whipped up by hurricane-force gusts raged through northwestern Los Angeles foothills on Saturday, burning some 165 homes and threatening the power supply of California's largest city.
More than 10,000 residents were under mandatory evacuation orders as the fire, which has burned more than 2,600 acres, spread westward fanned by dry winds.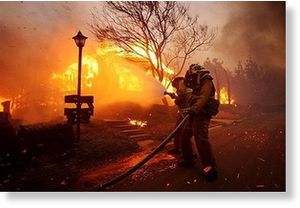 A separate fire burned a second day in the celebrity enclave of Montecito, where 111 homes have been destroyed.
Los Angeles Mayor Antonio Villaraigosa said the fire in the foothills at the edge of San Fernando Valley near Sylmar had destroyed more than any other in the past decade and that flames could take down power lines.
"The fire is threatening the power of the city of Los Angeles," Villaraigosa told a news conference. "We may have to move to rolling blackouts."
He urged residents to evacuate if they were in harm's way.
"If you wait until the fire gets there you have waited too long," Villaraigosa said. "This fire can be on you in a moment's notice."
He also asked Los Angeles residents to conserve power.
Governor Arnold Schwarzenegger declared a state of emergency in Los Angeles County, opening the way to additional resources.
Police closed down Interstate 5, the main freeway linking Los Angeles to the north, and other roads as 600 firefighters mobilized. Transmission lines bringing power follow the Interstate highway 5 corridor through the mountains north of Los Angeles, home to nearly 10 million.
Mountains were engulfed in flames and billows of smoke visible from space by weather satellite. Steady gale-force winds, blowing at 35 mph, periodically gusted up to 75 mph and spread the fire. A map of the fire is located
here
.
Residents of a destroyed mobile home park sat in the gymnasium of the Sylmar High School, where the American Red Cross had set up relief services.
"You could see absolutely nothing," said Jackie Burns, 77, who, along with her husband, Len, fled their mobile home at 3 a.m. as the fire raged through the neighborhood. "It was like looking into a black hole. It looked like the end of the world to me."
DRY CONDITIONS 'PERFECT FOR MORE'
California's fire season, which traditionally starts in June, has been lengthening and getting worse as the dry state adds homes in fringe areas prone to flames.
Los Angeles has been largely spared damage this year. In October of last year 30 blazes raged across Southern California, forcing evacuation of more than 500,000 people and damaging some 2,000 homes.
Firefighters are trying to stop the new blaze before it reaches Santa Clarita, a bedroom community about 40 miles from the center of Los Angeles with 180,000 population.
A second fire ravaged hills above Southern California's Santa Barbara coast for a second day after roaring through the exclusive Montecito enclave leveling 111 homes.
Those reported to have lost houses in the community dubbed "America's Riviera" included actor Christopher Lloyd, best known as the zany scientist in "Back to the Future".
The area remains on "red flag" warning for more fires, said Daniel Berlant, a spokesman at the California Department of Forestry and Fire Protection.
"It's the dry conditions that make it perfect for more fires," he said.