Miami -- Hurricane Omar is gaining strength as it moves northeast, a day after drenching islands in the southeastern Caribbean.
Omar's maximum sustained winds early today were near 80 mph.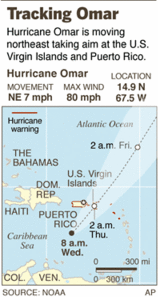 The National Hurricane Center in Miami says Omar is expected to continue gaining power over the next 24 hours. It could pass the threshold of 96 mph-winds for a Category 2 storm by the time it reaches the northern Leeward Islands late Wednesday.
Hurricane warnings have been issued for the U.S. Virgin islands, Puerto Rico's Vieques and Culebra islands and other islands in the region.
Meanwhile, a tropical depression is hugging the coast of Honduras. A tropical storm warning is in effect for the entire coast of Honduras.