Puerto San Carlos, Mexico -- Scores of people fled flooded homes Saturday as Hurricane Norbert lashed Mexico's southern Baja California peninsula with torrential rains and screaming winds.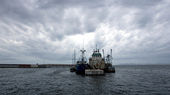 Norbert, with winds of up to 105 miles, was expected to hit land along a sparsely populated stretch north of the resort of Cabo San Lucas and then make a second landfall Saturday night in northwestern Mexico's mainland -- possibly as a hurricane, the U.S. National Hurricane Center said.
Residents fled to shelters as floodwaters rose in their homes. Winds bent palm trees and some streets were in knee-deep water in the town of Puerto San Carlos.
"We left our house because we were scared. Our house is pretty poor and the water was already coming in," said Maria Espinosa, 54, who arrived at a high school with her daughter and two grandchildren. They joined about 60 other people sitting on foam mattresses and blankets.
A hurricane warning was issued for the west coast of Baja California from Puerto San Andresito to Agua Blanca. The government also issued hurricane warnings along the coast of the border state of Sonora and on the east coast of the Baja peninsula from near La Paz north to Loreto.
Norbert is expected to sweep across Baja on Saturday, cross the Gulf of California and then head toward the Mexican mainland.
As of 8 a.m. PDT, the hurricane's center was located about 45 miles south of Cabo San Lazaro, Mexico, and was moving north-northeast at 15 mph.
The storm's remnants were expected to dump more rain on water-logged West Texas, where authorities were preparing for more flooding.
State and local officials plan to activate an emergency operations center Monday in Presidio, where an earthen levee is struggling to hold back the swollen Rio Grande.
The Governor of Baja California Sur state, Narciso Agundez, said officials here are "very worried."
Under overcast skies in Baja California, fishermen hauled their boats onto beaches in La Paz, a port town on the peninsula's eastern coast. Yellow flags on beaches warned people to stay out of the water.
Eli and Claudia Tubia, on vacation from Texarkana, Texas, took a cruise Wednesday night despite the coming storm, but their hotel in resort-dotted Cabo San Lucas was already storing outdoor furniture and paintings.
"They kind of cleared out the beach, and the restaurants that they have on the beach, they took all the furnishings away," Eli Tubia said.
Meanwhile, Tropical Storm Odile hugged the southwest coast of Mexico.
A hurricane watch was in effect from Manzanillo to Zihuatanejo, a resort town north of Acapulco. A tropical storm warning was in effect from Tecpan de Galeana to Manzanillo, as Odile moved parallel to the Pacific coast with winds of about 65 mph.
Odile was located about 35 miles southwest of Zihuatenejo, a resort town north of Acapulco and was moving northwest at about 10 mph. Odile could become a hurricane, and a small deviation in its path could bring the storm inland, the hurricane center said.
Forecasters said Odile would sweep close to land on Saturday and could dump as much as 8 inches of rain, threatening mudslides.
Odile has already caused flooding in Acapulco and forced officials to cancel classes at schools. Civil defense officials in Guerrero state urged about 10,000 people living along river banks or other dangerous areas to evacuate.