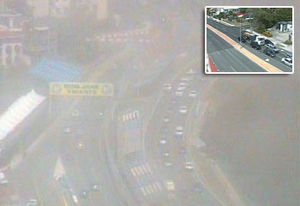 A salty haze over parts of the Gold Coast this morning has dramatically reduced visibility in some areas - while others are perfectly clear.
Transport Department web cams show thick haze on the Gold Coast Highway at Main Beach, yet glorious sunshine and clear skies at further north at Southport's Smith Street.
But according to the Bureau of Meteorology it is nothing terribly out of the ordinary. The haze looks like a thick fog.
Bureau forecaster Mark Trenorden said the mist was a haze rather than a fog: "It has been formed because of the combination of salt spray in the air and the high humidity," Mr Trenorden said.
"It is also associated with a south easterly change coming through to cool things down. Those things combined create the salty haze. It is not unusual on the coast."
The south easterly change was expected to come through Brisbane this afternoon. "It will cool temperatures off a little," Mr Trenorden said.