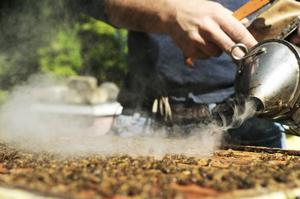 ©Unknown
Michael Simone squeezes smoke on the top of a bee colony before removing the honeycomb frame. Simone hypothesizes that the smoke disrupts the bees' chemical cues, confusing them and diverting their attention from the intruder.
Disease, mites and Colony Collapse Disorder all are threats to honey bee colonies, and helped cause 35 percent of U.S. bee colonies to die last winter alone.
Entomology Professor Marla Spivak is trying to change the 20-year decline in honey bee populations.
Spivak and her lab are focused on figuring out how to make bees healthy, particularly using their natural behaviors, said entomology graduate student Michael Simone .
One way to do this is through hygienic breeding, something the Bee Lab has been working on since 1993, according to its website.
Bees that exhibit hygienic behavior detect and remove brood - bees in the egg, larva, and pupa stages - infected with certain diseases before they emerge from the honeycomb cells, preventing the disease from spreading.
"Minnesota Hygienic" bees, bred by the Bee Lab, are available for commercial and hobby beekeepers throughout the United States.
Propolis , tree resin collected by bees to seal their hives, may be another natural mechanism of disease resistance, Simone said.
The resin has antimicrobial properties and is highly regarded for its human health benefits in some parts of the world, such as Japan and Brazil, Simone added.
Simone's research focuses on answering how and why bees collect this resin and looking at how it influences bees' immune systems at a genetic level. He said if it does turn out to prevent disease and offer health benefits to colonies, it could be applied in the beekeeping industry.
Research like this is essential if honey bee populations are to become healthy again, said Daniel Pasche, Minnesota state apiary inspector.
"Unsung Heroes"
Spivak calls beekeepers "the unsung heroes of agriculture and pollination." Despite everything that threatens bees, Spivak said beekeepers are doing their best to keep bees alive.
Pasche said beekeeping has become more challenging since he kept a hive as a high school student in the late 1970s.
"At that time, you could do almost everything wrong raising your bees and they would do OK," he added.
With the introduction of exotic mites about 20 years ago, it became more of a struggle, he said, and added that some beekeepers say it's not as fun as it used to be.
Pasche has been inspecting bees since 1989, and said the number of small and mid-size hobby beekeepers has been declining steadily in the past 15 years. Now, the majority of honeybees are kept by large commercial beekeepers, he said.
However, commercial beekeepers are also on the decline, and one factor is age.
"A huge percentage of [bee]keepers are over 50," Pasche said. "That's definitely a concern because it's not a nice industry to work at when you're older."
He said there is a need for young beekeepers. Spivak and her colleagues offer an annual short course on beekeeping.
A new beehive
Simone said people need to know how important bees are in pollination and what they do for the environment. A new bee research, teaching and outreach facility - - currently in the design stages - - could facilitate that.
The lab would be located on the corner of Larpenteur and Cleveland avenues, near the site slated for the new Bell Museum of Natural History, which is scheduled to open in 2010.
Spivak said the bee lab would offer a unique opportunity for collaboration with the new Bell Museum.
Funding for the facility has not yet been secured but is actively being sought, Spivak wrote in an e-mail.
Changes are needed
Citing urban sprawl, large single-crop areas and golf courses, Spivak said land use has resulted in a decrease in the number of flowers for bees to feed on. Bees don't feed on corn and soybeans, she added.
"We need to add more pollination corridors - crop borders of flowers, roadsides of flowers, golf courses with bee flowers, gardens for bees," she said, and added that people must be careful to not apply insecticides that would kill bees.
U.S. agriculture depends on honey bees for crop pollination. The value of the honey bee pollination translates to $14.6 billion for U.S. agriculture, according to a 1999 Cornell University study.
For information about the medicinal use of bee products, go to www.apitherapynews.com