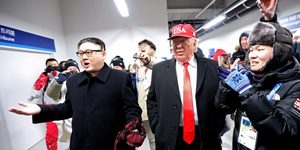 Did The Donald and Rocket Man secretly meet at the Winter Olympics in PyeongChang?
The West won the world not by the superiority of its ideas or values or religion (to which few members of other civilizations were converted) but rather by its superiority in applying organized violence. Westerners often forget this fact; non-Westerners never do.
- Samuel P. Huntington
Recent Comments
Yes, and during the Delphic heyday, the oracle was also an emitter of toxic gases. We are experiencing core heating due to the absorption of...
---
@the police station i glimpsed my file, i have a antecedent for computer fraud. At the supposed time i had never owned a computer, nor had any...
---
Happens all the time. Vince Foster shot in the head in a park, no blood with a gun he didn't own. Getting in the way of the Grabbers and their...
---
Has anybody ever seen a meteorite striking the Earth? Any videos out there? No? Well, let's believe in the mainstream story, anyway. That's what...
---
Inexplicable experience (to the physical mind) may take the form of associated imagery and become a shared perception. The 'illness' without...