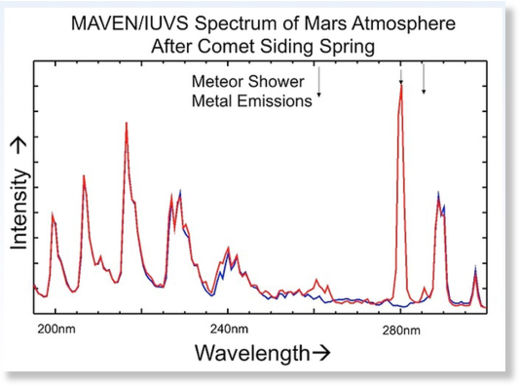 Comet Siding Spring's close flyby of Mars last month dumped several tons of primordial dust into the thin martian atmosphere, likely creating a brief but spectacular meteor shower with thousands of shooting stars per hour had any astronauts been there to see it, scientists said Friday.
The comet dust also posed a much more serious threat than expected to an international fleet of spacecraft in orbit around the red planet and roving about its surface. While engineers did not think the comet posed a major hazard, the orbiters were maneuvered to put them on the far side of Mars during close approach. Just in case.
As it turned out, that was a smart decision.
"After observing the effects on Mars and how
the comet dust slammed into the upper atmosphere
, it makes me very happy that we decided to put our spacecraft on the other side of Mars at the peak of the dust tail passage and out of harm's way," Jim Green, director of planetary science at NASA headquarters, told reporters during a teleconference. "I really believe that hiding them like that really saved them, and it gave us a fabulous opportunity to make these observations."