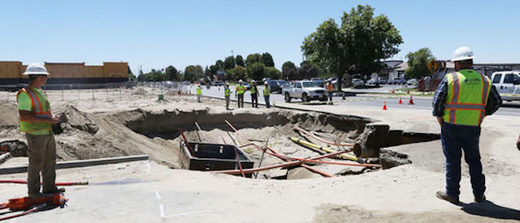 A large sinkhole in west Bakersfield closed traffic Monday on a section of Coffee Road.
The roughly 30 by 40-foot sinkhole occurred just off the roadway shortly after 8 a.m. in the 200 block of Coffee Road, near Westfield Road and north of Stockdale Highway. authorities said.
Bakersfield firefighters said they closed lanes in both directions on Coffee at Westfield Road after arriving at the area, where
it's believed a "compromised" 20-inch water main led to the sinkhole.
Construction has been going on nearby, and it's believed workers were trying to tie in the water main for a storm drain system, said Mike Mares, Cal Water's Bakersfield district manager. Water poured out of the main before being shut off before 10 a.m.