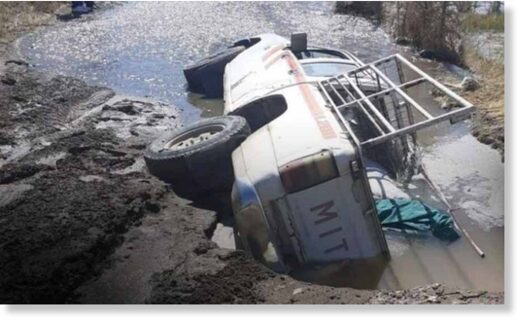 A large sinkhole swallowed a pickup truck in a rural area of Paphos on Tuesday, with reports pointing to water erosion caused by a pipeline months after a historic overflow at the country's fourth largest dam.
Local media said a pickup truck fell into a sinkhole on Tuesday on a dirt road near Agia Varvara, Paphos district, with a video online later showing a single cab submerged in water and mud.
The sinkhole was estimated to be about 10 meters long, with media speculating it was caused by erosion from a pipeline that passes through the exact location.
In March 2022 overflow was reported at the Asprogia dam, colloquially known as Asprogia-Kannaviou due to an unresolved name war in the area, with additonal overflow or near-overflow incidents recorded over the years.
Reports said the driver of the vehicle was not injured when the ground gave way.