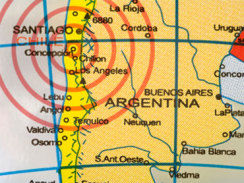 Magnitude-6.8 Temblor Centered Near Exact Same Spot as Last Year's Devastating Quake; No Reports of Injuries or Damage
Cauquenes, Chile - A magnitude-6.8 earthquake struck central Chile Friday, centered in almost exactly the same spot where last year's magnitude-8.8 quake spawned a tsunami and devastated coastal communities.
Electricity and phone service were disrupted and thousands of people fled to higher ground following Friday's quake, but the government quickly announced that there was no risk of a tsunami, and there were no reports of damage or injuries.
President Sebastian Pinera appealed for calm and praised his government and Chileans in general for responding quickly.
"Today we're better prepared," Pinera said. "I think we've learned the lesson of Feb. 27, 2010."
Rodrigo Ubilla, the vice interior minister, said the navy had "totally discounted any risk of a tsunami."
Still, the strong earthquake frightened many Chileans, especially along the coast, where people quickly moved to higher ground.