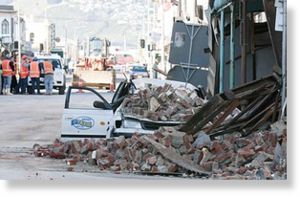 A massive earthquake caused the ground beneath the New Zealand city of Christchurch to shift up to 11 feet.
The magnitude 7.1 quake on Friday night in New Zealand was larger than
the one
that killed 200,000 people in Haiti this year and appeared to have opened a new fault line.
Mark Quigley, a geology professor leading a team investigating the cause of the quake, said: "One side of the earth has lurched to the right."
Much of the centre of Christchurch remained sealed off and under curfew for a second night on Sunday.
More than 500 buildings have been
badly damaged
. Two men were seriously hurt by falling masonry but there have been no reports of deaths.