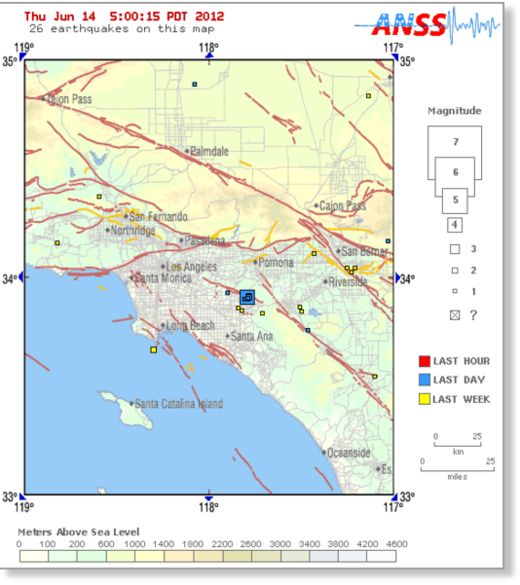 California - The 4.0-magnitute earthquake that rumbled beneath Orange County on Wednesday night resulted in about 10 aftershocks, the most recent occurring Thursday morning, officials said.
The latest temblor, which was too small to feel, happened about 7:30 a.m., about 11 hours after the 4.0-magnitude quake hit, said Bob Dollar, a geophysicist with the U.S. Geological Survey. Most of the aftershocks occurred within about an hour of the 4.0 quake, the largest being two 2.4-magnitude temblors that were about two miles north and north-northwest of Yorba Linda.
The first quake was felt over a wide area of Los Angeles and Orange counties, Dollar said, with more than 8,000 people reporting to the USGS's "
Did you feel it?
" page.
"We haven't had a 4 in the urban area for a while," Dollar said. "And a 4 is strong enough that it's going to be widely felt."
The earthquake also added a little extra excitement to the star-studded red-carpet opening of the new
Cars Land
at the Disneyland Resort, where thousands of celebrities, media and other invite-only guests gathered at California Adventure for an event celebrating the final piece of a $1.1-billion expansion of the Anaheim park.
"Earthquake!"
@Mouseinfo
tweeted. "I guess mother nature wanted to get into #carsland too."
No damage was immediately reported
after the earthquake or the aftershocks that followed, Orange County officials said.