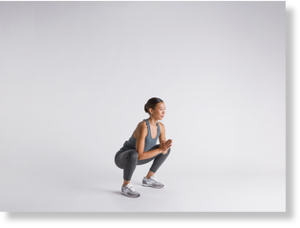 Exercise is a powerful health-building tool that greatly influences the development of chronic disease and your ability to live independently as you age. Squatting, when it's incorporated into a strength training regimen, is one of the best functional exercises. It requires no equipment, is relatively simple to perform and can be done just about anywhere.
Although they're often regarded as leg exercises, squats benefit your entire body, including your core. But what about when you incorporate squatting into your everyday routine?
In many developing nations, children and adults use the squatting position to rest or to work. Paradoxically, in Western nations, people equate sitting with resting. But, while squatting takes your hips and knees through a full range of motion, sitting for long periods can cause your hip flexors to shorten and become tight. This often leads to lower back pain and problems with posture.