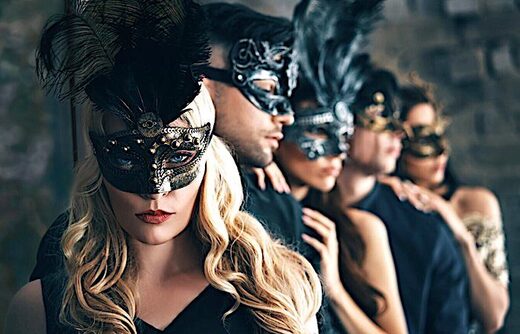 2020 is a year of disguises. Some examples include
computer models/modelers
disguised as "science/scientists,"
Tyrants/Dictators/Totalitarians
disguised as "elected officials
,"
propaganda machines
disguised as "news sources,"
brainwashing
disguised as "information,"
censorship
disguised as "public health safeguard,"
panic and fear
disguised as "social responsibility."
Even the virus itself has been disguised by humans as an "apocalypse."
But, the last part is not the doing of the virus, but
the doings of a select number of humans who are responsible for many of the other disguises as well.
And if you look at the totality of events in 2020, it is clear that the average citizen has been treated generally less than human, certainly not as adults in any case.
I believe we are in as great a crisis as a species as we have ever been.
The crisis is
not from some seasonal virus
(which is a health issue),
but it is from ourselves and what we have devolved into as a species
(social, cultural, ideological issues).
I have debated with myself on how to approach the following essay. Under normal circumstances, it would be easy. But, the topic has been so warped and sensationalized into political and social hyperbole, it is difficult to get a handle on it. I could go at it strictly from a scientific perspective, but that would tune many people out.
After about two weeks of my own internal debate and several versions,
I have decided to treat the readers of this essay as Human Adults.
I will try to not get too technical but rather use rational arguments
to approach the issue of a viral infection from the perspective of the virus molecule outside of the host, i.e., the natural environment.