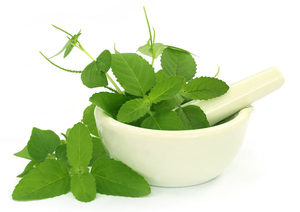 Tulsi or Holy Basil is amongst the most highly revered of the known therapeutic shrubbery for its ability to elevate the mind, heal the body, and uplift the soul. This enchanting herb, also known as
Ocimum sanctum
, is an important part of the repertoire of India's traditional system of medicine, known as Ayurveda.
Holy Basil boasts cherished status as one of the world's most sacred herbs because it possesses what many consider to be near-miraculous healing potential − hence why it's earned esteemed titles including "The Elixir of Life" and "Mother Medicine of Nature."
In Ayurveda specifically, Tulsi is classified as a "rasayana," delineating its MVP (most valuable player) status in the realm of adaptogenic herbs. Similarly, in Traditional Chinese Medicine (TCM), Tulsi is regarded as a "Shen tonic," a designation that suggests it possesses an almost inherently divine essence. A healing gift straight from the heart God, so to speak. What seems to set Holy Basil apart is the fact that it encapsulates each of the three elements that embody holistic health − mind, body, and soul.