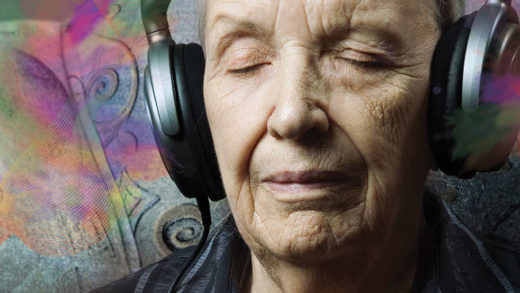 The principles of neuroplasticity may underlie the positive effects of music therapy in treating a diversity of diseases.
A man with Parkinson's disease sitting in a crowded restaurant has to use the rest room, but he cannot get there. His feet are frozen; he cannot move. The more he tries, the more stressed he becomes. People are beginning to stare at him and wonder what is wrong. Then he remembers the song "You Are My Sunshine," which his music therapist taught him to use in situations like this. He starts humming the tune. In time with the music, he steps forward—one foot and then the other—and begins walking to the beat in his head. Still humming, he makes it to the rest room, avoiding a potentially embarrassing situation.
Freezing of gait is a common occurrence for many people with Parkinson's disease. Such struggles can limit social experience and lead to seclusion and depression. Unfortunately, available pharmacological and surgical treatments for Parkinson's do a poor job of quelling this and many other symptoms. But where conventional medicine has failed, music therapy can sometimes provide relief.
Music therapy is the use of music by a credentialed professional as an intervention to improve, restore, or maintain a non-music-related behavior in a patient or client. As a music therapist, I have worked with many people with Parkinson's disease and have seen how music can provide an external cue for patients to walk in time to, allowing them to overcome freezing. I have also used group singing to help patients with Parkinson's improve their respiratory control and swallowing. Impaired swallowing can lead to aspiration pneumonia, which is a leading cause of death among this patient population.