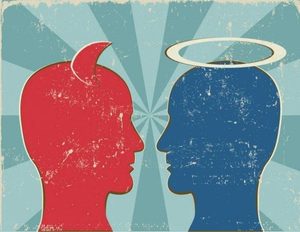 When it comes to the so-called Corona crisis, everyone seems to be talking about numbers. Isn't the virus not much worse than the flu? If so, why didn't we have a lockdown during the flu season? And even if Covid-19 is worse - aren't the lockdown measures actually killing more people than the virus itself?
While these are valid and important arguments, they still operate on a simplistic utilitarian understanding of ethics: it's all about calculating the best outcome, counting the dead, maximizing humanity's well-being by weighing one thing (the virus) against another (the measures). The dispute is just about the variables.
But I think most of us who are critical of the current madness feel it in our bones that there is something deeply wrong here, and it has little to do with the numbers.
Suppose that this virus really
was
a deadly killer and we could reasonably expect it to kill off, let's say, 10% of the population in every country.
Would you accept the current measures then?
Would you find it okay that the state takes away your freedom and responsibility to come to the right decisions in your life? To visit your friend in trouble, to hug your father, to attend church, or to sell your products and services to those still willing to buy them?
More to the point, shouldn't you be able to decide whether you want to take the risk of visiting your fragile parents, if you don't have any symptoms for example, because this deep care outweighs the risk of transmitting the virus? Shouldn't the elderly decide for themselves whether they want to cuddle their grandchildren? Or shouldn't you be the one who decides whether to meet some friends to make some music or not, weighing between risk of death and the very thing that makes life worth living in the first place?
If your answer is no to any of those questions, then you are in trouble.
Because in today's world, we seem to lack the knowledge to justify our gut feeling that some things just should never be prohibited, some freedoms never be curtailed, and some things never dictated by the state.
If we say we want to attend church or hug our parents, or visit a friend who needs us, and somebody replies that this might kill people and surely, avoiding death is more important than hugging your dad, what are we to say? It leaves us speechless. We kind of see the point, but then again, we kind of don't.
And it's not enough to point to the constitution either. If we don't understand why something is in the constitution in the first place and can't defend it, if even just to ourselves, then why should anybody bother?
People will just point out that saving lives is more important than some petty legal argument.
So let's take a step back and clear up a few things about the philosophical background of our Western constitutions and how this relates to the Corona measures.