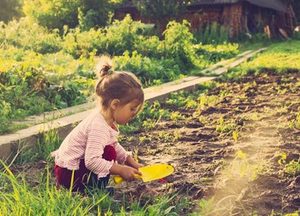 The time you spend in the garden with your children is invaluable.
If you have children or work with children, then you probably have noticed that hands-on experiences help them make connections to the lessons they are learning. This is especially true when the lesson involves something you enjoy or have made a hobby out of, such as gardening. Hands-on learning experiences surround us if we take the time to look, and educational opportunities abound with a little ingenuity to turn daily tasks into lessons.
Help your children establish a sense of responsibility surrounding planning, caring for, and harvesting their own gardens. Older children can even get in on the spacial awareness, science, and finances behind it all. These lessons easily transfer to a larger picture: namely, how their own responsibilities and care of something living is integral to their attention to personal moral values as they grow.