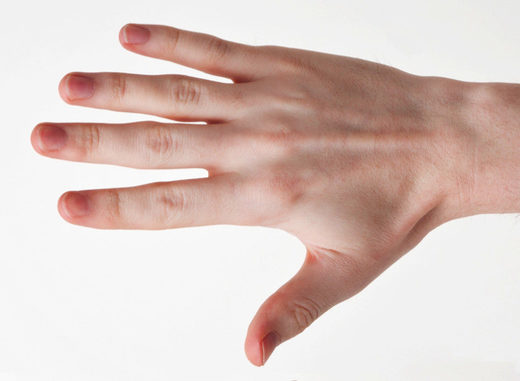 Many of us are spending a lot of time looking at our hands lately and we think we know them pretty well. But research from York University's Centre for Vision Research shows
the way our brains perceive our hands is inaccurate.
In a new study, the Centre's director Laurence Harris, a Psychology professor in York's Faculty of Health, and graduate student Sarah D'Amour, found the brain's representation of the back of hands changes depending on the orientation in which they are held.
The study published the journal,
Public Library of Science (PLoS ONE)
today looked at how accurate healthy individuals are at judging the size of the back and the palm of their hand and how perception of hand size might be affected when viewing the hand in familiar or unfamiliar perspectives.
Using a novel technique that revealed the indivduals' implicit representation of their hands in the brain,
researchers found the perceived width is different when the hand is held upright compared to when it is held sideways, but only for the back of the hand. There was no variation seen in perception for the palm.