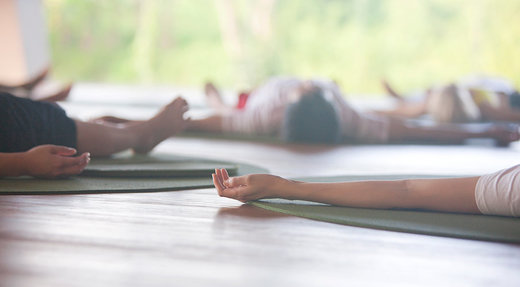 I was having coffee with an old friend when I found myself interrupted—repeatedly—by a series of "helpful" reminders and messages from my smartphone. With each
blrrpt
,
boop
, and
ping
, my breath caught, my neck muscles tightened, and my jaw clenched.
This unconscious gripping is the work of the autonomic nervous system, or "fight-or-flight" response. Though few of us will face an actual saber-toothed tiger, the body's ancient physical reaction to attack remains a default setting in stress-filled modern times, says Judith Hanson Lasater, a teacher of restorative yoga.
But our intelligent human bodies also possess the ability to shut down an overactive stress response, she says. The
parasympathetic
nervous system triggers the "rest-and-digest" mode: the heart rate decreases, muscles relax, breathing slows, and blood pressure drops.
Ahhh
. . .
Fortunately, we can learn to activate the triggers that tell our bodies it's time to slow down. And with a little practice, we can train ourselves to remain in that relaxed state long term, Lasater says. The practice uses props and long, mostly supine, holds to passively open the body.
"Deep relaxation is not a pill to take, it is a powerful choice to make," she says. "We can change our mental state through our body and consciously choose a different way."