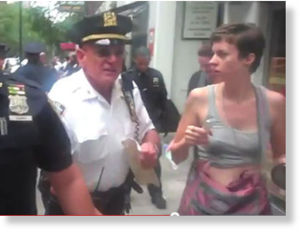 New York City will not provide a defense attorney for Police Officer Anthony Bologna, who was caught on camera pepper-spraying Occupy Wall Street protesters and now faces a civil lawsuit.
The now-notorious cop, a 29-year veteran of the NYPD and a deputy inspector, will have to cover his own legal fees, with the help of his union, the Captains Endowment Association.
A widely seen YouTube
video
showed Bologna pepper spraying at least two girls at an Occupy protest, who fell to the ground, screaming and crying in pain while the officer purportedly turned and walked away.
A month after the Sept. 24 incident, a police investigation found that the cop had violated NYPD guidelines.
Patrol Guide 212-95 lists situations in which an officer may legally use pepper spray. It may only be used in situations where the officer must protect himself or another from harm, establish control of someone resisting arrest or someone trying to flee from custody, establish control of an emotionally disturbed person or prevent an attack from a dangerous animal.