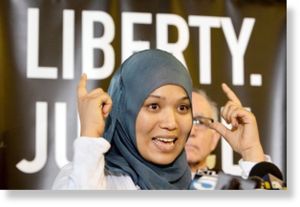 Imane Boudlal charges that she was harassed after she began wearing a hijab in 2010 while working as a cafe hostess.
Imane Boudlal got a job two weeks after moving to California, a hostess position at a Disneyland Resort cafe.
She didn't log many hours at first - it was April, the slow season - but as the summer of 2008 progressed, the 24-year-old worked more frequently as the Grand Californian Hotel & Spa's Storyteller's Cafe drew more tourists.
It was also, Boudlal alleges in a lawsuit filed Monday, when her co-workers began taunting her, calling the Moroccan-born Muslim a "terrorist," a "camel" and someone who learned how to make bombs at her mosque. She complained to her managers verbally and in writing, she said, with no results.
Now, Boudlal is suing Walt Disney Corp. in federal court, saying that she was discriminated against and harassed for her religious beliefs. She also alleges that she unfairly lost her job in 2010 after refusing to remove her head scarf at work.
"It's been hard," Boudlal said in an interview. "I thought it was just a matter of complaining and a few days, and it wouldn't affect my life, but it turns out ... nothing has been done."
The lawsuit charges that Boudlal, who is a naturalized U.S. citizen, decided to wear her hijab full time in 2010, about eight months after she began wearing it publicly. She contacted her supervisors at Disneyland to request an exemption to the company's "look" policy - general appearance guidelines that, according to a Disney website, touch on items ranging from contact lens color and visible tattoos to personal hygiene.