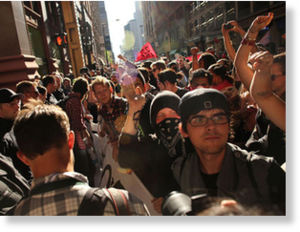 A protester belonging to an Occupy Wall Street group in rural Pennsylvania is being charged with felony attempted bank robbery and a terrorism-related charge for holding signs up during a demonstration at a local Wells Fargo branch.
David C. Gorczynski, 22, was charged on Tuesday with attempted bank robbery and terroristic threatening, both felonies, as well as one misdemeanor charge of disorderly conduct. Police detained him after he walked into an Easton, PA Wells Fargo branch with a sign that read "You're being robbed" and another that said "Give a man a gun, he can rob a bank. Give a man a bank, and he can rob a country."
Gorczynski was at the Wells Fargo bank as part of a demonstration led by Occupy Easton, the small Pennsylvania town's OWS offshoot.