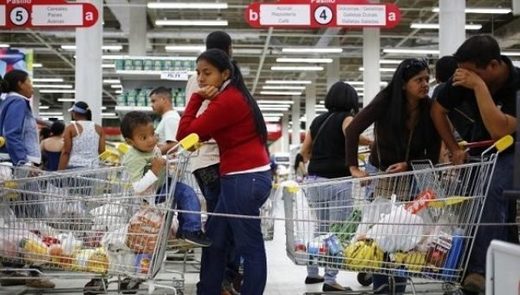 The facts are clear — Venezuela does have a food crisis, but mainstream U.S. media always blames the socialist government.
Disgruntled customers, empty store shelves, long supermarket lines. These are the images that mainstream U.S. media typically feature in their coverage of Venezuela's ongoing food crisis.
These images are usually accompanied by sarcastic headlines like Forbes' "Venezuela Discovers the Perfect Weight Loss Diet" and the Cato Institute's "Hunger Is in Retreat, But Not in Socialist Venezuela."
U.S. media outlets publish stories blaming Venezuela's food crisis on the socialist government almost daily. Today isn't any different.
A new study released by researchers from three Venezuelan universities reported that nearly 75 percent of the population lost an average of 19 pounds in 2016 for lack of food. The report, titled, "2016 Living Conditions Survey," added that about 32.5 percent of Venezuelans eat only once or twice a day, compared to 11.3 percent last year.
Moreover, 93.3 percent told the researchers that their income was not enough to cover their food needs.