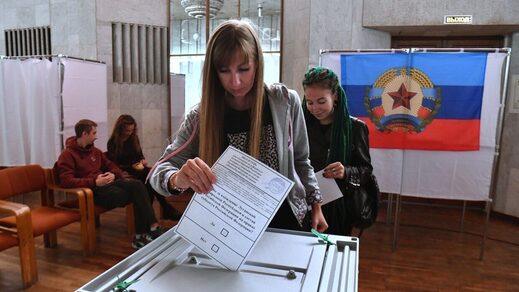 Last week, referendums on once-again becoming part of Russia were held in the Donetsk (DPR) and Lugansk (LPR) People's Republics, as well as in the liberated territories of Zaporozhye, Kherson, and Nikolaev regions (the latter was annexed to Kherson Region).
According to the results, the 'For' option won all four by an overwhelming margin
. RT's correspondent in Donbass, Vladislav Ugolny, has been observing the sentiment there for the past eight years. He describes how the referendums took place, what they meant to local residents, and why their outcome simply could not have been different.
All arguments 'against'
For those who are sufficiently immersed in the history of the struggle of the Russian residents of Ukraine for unity with their historic homeland, the results of the referendums are hardly surprising. But it is also worth pointing out from the start that not everyone in these regions took part in the vote.
In 2020, one soldier told his comrades-in-arms that he was only serving in the DPR army for the sake of a good salary by local standards. He said that, at the time, he was ready to dig trenches and go on guard duty. But in case of a resumption of active military operations, he would be at Yuzhny, a station from which buses are dispatched to Russia.
Active hostilities resumed over six months ago, eventually leading to the second referendum in Donbass. And this warrior did not take part in it.
Why? Did keep his word and escape? No, he died in 2021. He could have said anything - soldiers like to scratch their tongues. But when his comrades-in-arms came under Ukrainian fire and their wounded had to be evacuated, he volunteered. During the rescue operation, he was killed in action. He did not live to see the fighting intensify, nor did he live to see the new referendum.