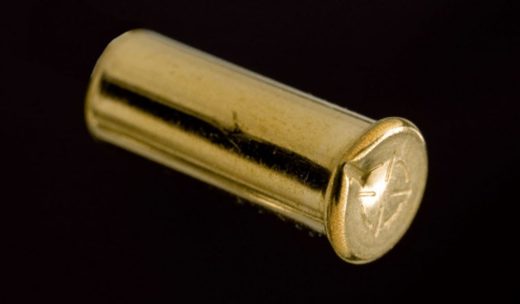 The American school system has long abandoned its job of teaching the young. It's not an exaggeration to say that our schools are little more than indoctrination centers. They don't really prepare our children for the world. They just teach them to be scared, dependent, and to disregard any traditional value. And god forbid one of your boys does something even remotely masculine outside of a physical education class or a football field. In most schools,
boys are treated far more harshly than girls
are for their bad behaviour.
And that may explain what happened to Hunter Jackson, a 4-year-old from Collinsville, Illinois who was attending preschool. During a visit with his grandpa, he picked up an empty .22 casing in a field and took it home with him. But when he took it to school to show his friends, all hell broke lose. The boy's mother explained what happened
in a Facebook post
, which has since gone viral:
Today, I picked up my happy little 4 yr old from preschool, at A Place to Grow, in Troy. My arrival was met with a stone faced teacher, who told me that Hunter brought a "shotgun bullet" to school. I was horrified. My kid? Who just spent the weekend learning gun safety?

Well....when I was escorted to the office for a sit down. I was handed a tiny .22 empty brass casing. Not a "shotgun bullet". He found it on the ground, expelled from a 22 Rifle over the weekend, while Hunter was target practicing with his Police Officer Grandpa. He was so excited, and snuck it to school to show his friends. We had no idea about it.

I was handed a piece of paper. No words, just eyebrows raised in disgust at my son, explaining that his behavior warranted a 7 school day suspension. Which I still was expected to pay tuition for, of course. And a threat that if his enthusiasm for guns continued, he'd be permanently expelled...