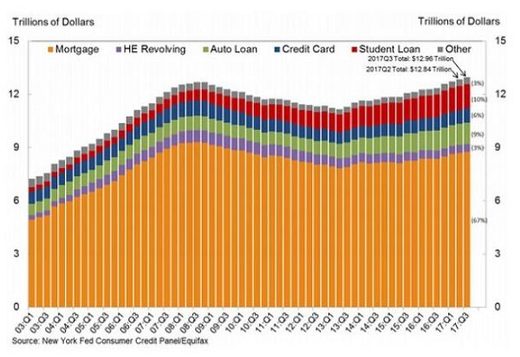 The numbers:
Household debt rose by $116 billion, or 0.9%, to $12.96 trillion in the third quarter, the New York Fed said Tuesday. That's the highest level in nominal terms, though not when compared to the size of the economy. Credit-card debt rose by 3.1% while home equity lines of credit, or HELOC, balances fell by 0.9%. There were small gains in mortgage, student and auto debt.
Flows into credit-card and auto loans delinquencies rose, with 4.6% of credit card debt 90 days or more delinquent, up from 4.4% in the second quarter, and 2.4% of auto loan debt seriously delinquent, up from 2.3%.
That's still nowhere near the 9.6% of student loan debt that is delinquent, which itself is understated because about half of those loans are currently in deferment, grace periods or in forbearance.
What happened:
U.S. households aren't aggressively leveraging up, and the ones that are did so had better credit. The higher level of auto loan originations was mainly to prime borrowers, and the median credit score to individuals originating new mortgages ticked up to 760 from 754.