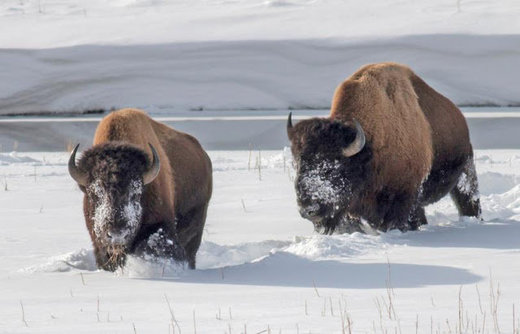 At least 100 Yellowstone National Park bison have been trapped in corrals near the town of Gardiner since Saturday as the National Park Service begins its grim winter work of
shipping some of the wild animals to slaughter
.
One large cohort of bison annually migrates north from the park in winter in search of forage as deep snow covers the interior. Another band migrates along the Madison River on the west side of the park exiting near West Yellowstone.
"We've been seeing them migrate through the month of December," said
Morgan Warthin
, park spokeswoman. "We had anticipated this given the predictions of wintry weather. On the plateau there's been a lot of snow and cold."
Animals trapped by the Park Service are shipped to slaughter facilities for processing with the meat distributed to designated tribes.
Hunt zone
When the animals cross the park boundary into Montana near either entrance
they become fair game for licensed state hunters as well as tribal members with treaty hunting rights. So far this winter, tribal hunters have reported taking 80 bison,
36 from the west side and 44 from the north, while state hunters have harvested 19 bison, only six of which came from the north side, according to the Montana Department of Fish, Wildlife and Parks.