Earth is about to pass through a stream of debris from 2003 EH1, a comet fragment that produces the annual Quadrantid meteor shower. Forecasters expect the shower to peak around 07:20 UT (02:20 am EST) on Wednesday morning, January 4th. At maximum, as many as 100 meteors/hour could emerge from a radiant near Polaris, the north star.
Brian Emfinger of Ozark, Arkansas, photographed this one on Jan. 2nd: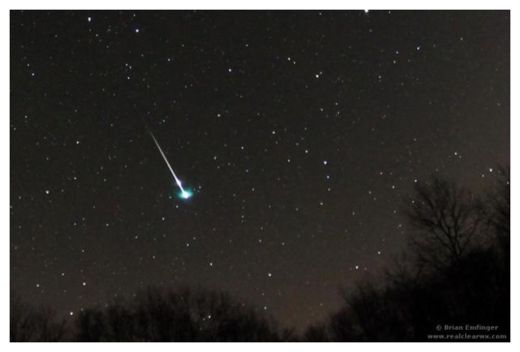 "Wow! What a really nice fireball," says Emfinger. "It emerged very very close to the Quadrantid radiant, but I'm not 100% sure it is indeed an early Quadrantid."
Even among professional researchers there is a lot of uncertainty about the Quadrantids. Because the shower occurs during the deep cold of northern winter, and because its peak is brief (often no longer than a couple of hours), this strong shower is seldom observed. Bill Cooke of NASA's Meteoroid Environment Office hopes 2012 will be different. "We encourage sky watchers to be alert for Quadrantids and send their observations to NASA using the Meteor Counter app," he says. "With a little help, we just might learn something new about this intriguing shower."