The moment long feared by conspiracy theorists is nearly upon us: The "doomsday comet" Elenin will make its closest approach to Earth Sunday (Oct. 16). Or what's left of it will, anyway.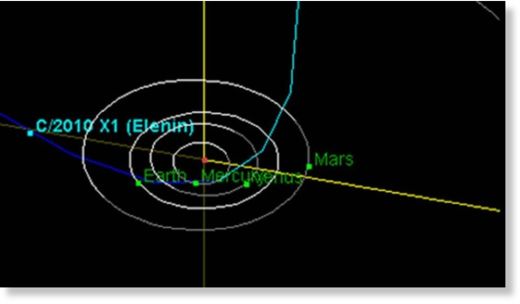 Comet Elenin started breaking up in August after being blasted by a huge solar storm, and a close pass by the sun on Sept. 10 apparently finished it off, astronomers say. So what will cruise within 22 million miles (35.4 million kilometers) of our planet Sunday is likely to be a stream of debris rather than a completely intact comet.
And the leftovers of Elenin won't return for 12,000 years, astronomers say.
"Folks are having trouble finding it, so I think it's probably dead and gone," said astronomer Don Yeomans of the Near-Earth Object Program Office at NASA's Jet Propulsion Laboratory in Pasadena, Calif.
That means it probably won't present much of a skywatching show Sunday, scientists have said.