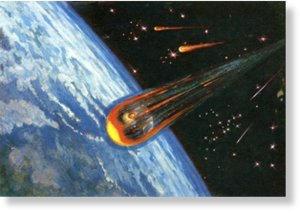 Residents of northeastern Ohio and western Pennsylvania should be on the lookout for space rocks.
At 1:22 a.m. Aug. 8, sky cameras belonging to the Southern Ontario Meteor Network in Canada recorded a meteor as it entered the Earth's atmosphere over Lake Erie, and scientists at NASA say they have "high confidence" that pieces of the meteor landed in northern Trumbull County.
The "fireball" entered the atmosphere 54 miles above Lake Erie, traveling south-by-southeast at approximately 55,900 mph. Dr. William Cooke, head of NASA's Meteoroid Environment Office, said debris created Doppler radar echoes west of Hermitage, Pa.
The International Astronomical Union defines a fireball as "a meteorite brighter than any of the planets." In essence, the mass and speed of the meteor increase its visibility, Cooke said.
Cooke said the fragments are about two to three inches in diameter and likely weigh a few ounces.
Patrick Durrell, an astronomy professor at Youngstown State University said the fragments can be difficult to identify, but there is at least one telltale sign.
"If you pick up a rock that feels a lot heavier than you'd expect for its size, that's a good place to start," Durrell said.
Durrell and Cooke both said meteorite landings like this one are highly common and occur daily.