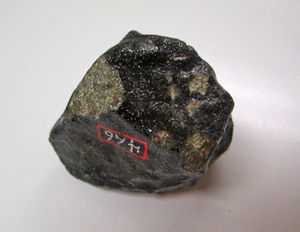 On the morning of June 28, 1911, somewhere between 8:30 and 9:00 in the morning, a fireball was observed northwest of Alexandria, Egypt. Few would realize what it was. But soon after, W.F. Hume, minister of the Geological Survey of Egypt, began taking eyewitness statements, and two months later published his report, "The First Meteorite Record in Egypt."
One of those statements, from a farmer who claimed to have seen a fragment fall on a dog, gave rise to the popular myth that Nakhla, as the meteorite would be named, was "the dog killing meteorite," an unsubstantiated claim, but the dramatic account is irresistible: "The fearful column which appeared in the sky at Denshal was substantial. The terrific noise it emitted was an explosion which made it erupt several fragments of volcanic materials. These curious fragments, falling to earth, buried themselves into the sand to the depth of about one metre. One of them fell on a dog. . .leaving it like ashes in a moment."
Approximately 40 stones were recovered southeast of Alexandria, near the town of Abu Hummus. Of the stones recovered, Hume immediately sent two of them to the Smithsonian Institution, weighing 117g and 52g (or 4.3 4.13 ounces and .117 1.83 ounces). They arrived in August of 1911 and have been a part of the Natural History Museum's collections ever since. Today, we celebrate the 100th anniversary of Nakhla's landing.