We've all heard of the
green flash,
the fleeting emerald light that sometimes appears just above the setting sun. Once thought to be a fable, the green flash was popularized by Jules Verne in his 1882 novel
Le Rayon Vert (The Green Ray).
Now it is generally known to be real.
But what of the even rarer blue flash? Turns out, that's real too. Peter Rosén photographed one from Stockholm, Sweden, on Feb. 29th: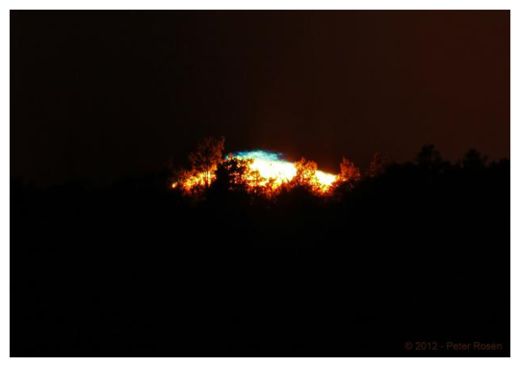 "I was shooting the sunset when, suddenly, just as the sun was about to disappear behind the treetops, there was a mighty blue flash," says Rosén.
Blues flashes are formed in the same way as green flashes:
a mirage
magnifies tiny differences in the
atmospheric refraction
of red, green and blue light. Blue flashes are generally harder to see than green flashes, because blue flashes blend into the surrounding blue sky. When the air is exceptionally clear, however,
the blue flash emerges.