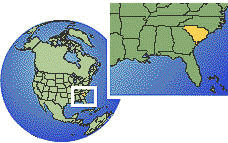 A loud boom shook the coastal Lowcountry Wednesday morning, felt from Mount Pleasant to West Ashley. And once again, no one could say what it caused it.
Seismographs at the College of Charleston didn't pick up any earthquake activity
. The Charleston Air Force Base didn't report any military aircraft creating sonic booms.
No commercial vessels responded to a U.S. Coast Guard message asking for reports if it had been felt offshore.
The reverberation most likely came from the "Seneca Guns," a so-far-unexplained phenomenon felt along coasts around the world.