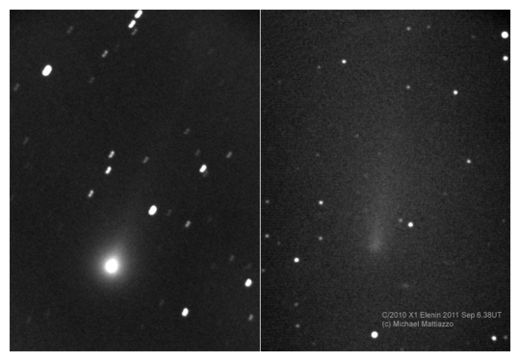 Russian amateur astronomer Leonid Elenin had the good fortune to discover a comet on Dec. 10, 2010, and it's turned out to be quite a skywatching curiosity.
Initially, comet Elenin
received quite a bit of attention
from astronomers because its orbit would take it quite close to Earth, within 22 million miles (35 million kilometers), on Oct. 16, 2011. It looked like it was going to put on a good show.
Even as recently as Aug. 19, the comet was brighter than predicted, as observed and photographed by amateur astronomers in Australia, notably Michael Mattiazzo.
Then, disaster struck in the form of a coronal mass ejection from the sun. The next day the comet had dropped half a magnitude in brightness, and has continued to drop, despite the icy body getting closer to the sun. Apparently the
comet is disintegrating,
as sometimes happens when comets pass too close to the sun.
Meanwhile, this rather small and ordinary comet has become the subject of media frenzy among
conspiracy theorists and 2012 doomsayers.
Comet Elenin has been accused of being a brown dwarf or the mysterious and
destructive planet "Nibiru,"
and has been blamed for earthquakes and tsunamis. Did you know that its discoverer's name is really an acronym for "Extinction Level Event: Nibiru Is Nigh."
On Sept. 10 the comet passed its perihelion, a phase marking its closest approach to the sun, at a distance of 44,840,000 miles (72,170,000 km).