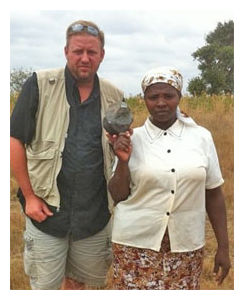 Statistically, every year roughly 1,400 meteorites of pebble size and larger fall somewhere on Earth's lands. But few of these are ever found - and even fewer (about 3%) are actually seen as they arrive. Because they're rare, these
witnessed falls
are especially prized both by scientists (because the stones are fresh and unweathered) and by meteorite collectors (they command higher prices).
As it happens, a bunch of meteorites fell from the sky over east-central Africa on July 16th, and only now are details of this extraterrestrial special delivery coming to light.
On that morning, residents in villages near Thika, Kenya, heard a loud explosion but didn't know what to make of the strange stones that fell around them.
Local police were called
to investigate a sizable one that dropped into a cornfield and carted it off for further study.
This is a desperately poor region, and it didn't take long for local villagers to realize that these plain-looking rocks might be worth something. Word of the event soon reached meteorite hunters, and within hours the chase was on.