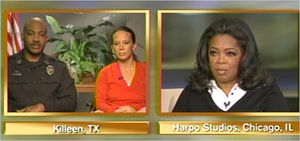 Killeen, Texas - Sgt. Kimberly D. Munley has been applauded as a hero across the nation for shooting down Maj. Nidal Malik Hasan during the bloody rampage at Fort Hood last week. The account of heroism, given by the authorities, attracted the attention of newspapers, the networks and television talk shows.
But the story of how the petite police officer and the accused gunman went down in an exchange of gunfire does not agree with the account of an eyewitness who had gone to the base's processing center, where the shooting occurred, to conduct business before being deployed.
The witness, who asked not to be identified, said Major Hasan wheeled on Sergeant Munley as she rounded the corner of a building and shot her, putting her on the ground. Then Major Hasan turned his back on her and started putting another magazine into his semiautomatic pistol.