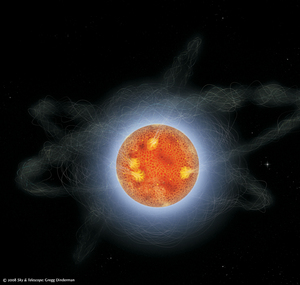 ©Sky & Telescope, Gregg Dinderman.
This artist rendering depicts how a magnetar might appear if we could travel to one and view it up close, something that would not be advisable.
Observations from NASA's Rossi X-ray Timing Explorer (RXTE) have revealed that the youngest known pulsing neutron star has thrown a temper tantrum. The collapsed star occasionally unleashes powerful bursts of X-rays, which are forcing astronomers to rethink the life cycle of neutron stars.