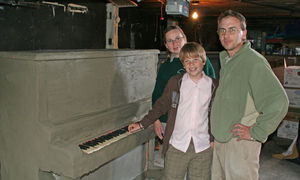 Beautiful arpeggios and even entire sweet sonatas can indeed emerge from a piano made of concrete, as famed inventor Thomas Edison envisioned.
That's what an Ontario family discovered that when they encased their own 1912 Webber piano in cement as an experiment.
"There's that perception that a concrete piano has to sound bad," said Judy Wearing of Napanee, Ont., adding Friday that she and her family were surprised to find the concrete actually improved the sound. "It sounded clearer. The notes were cleaner."
She spoke to an acoustic physicist who said the concrete dampens the resonance within the piano, but whether that improves or worsens the sound is a matter of personal taste.