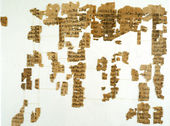 Some newly recovered papyrus fragments may finally help solve a century-old puzzle, shedding new light on ancient Egyptian history.
Found stored between two sheets of glass in the basement of the Museo Egizio in Turin, the fragments belong to a 3,000-year-old unique document, known as the Turin Kinglist.
Like many ancient Egyptian documents, the Turin Kinglist is written on the stem of a papyrus plant.
Believed to date from the long reign of Ramesses II, the papyrus contains an ancient list of Egyptian kings.