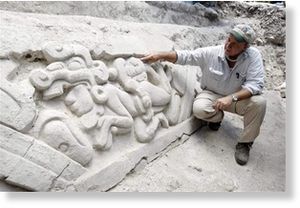 Archeologists have uncovered carved stucco panels depicting cosmic monsters, gods and serpents in Guatemala's northern jungle that are the oldest known depictions of a famous Mayan creation myth.
The newly discovered panels, both 26 feet long and stacked on top of each other, were created around 300 BC and show scenes from the core Mayan mythology, the Popol Vuh.
It took investigators three months to uncover the carvings while excavating El Mirador, the biggest ancient Mayan city in the world, the site's head researcher, Richard Hansen, said on Wednesday.