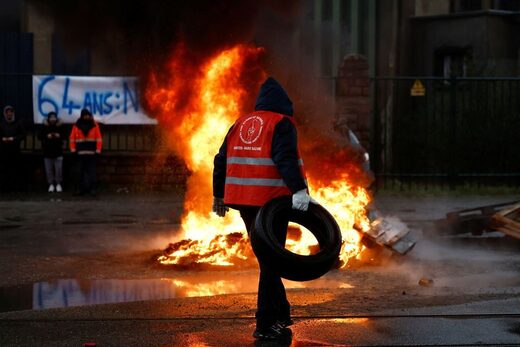 TotalEnergies
(TTEF.PA)
said strike action had interrupted shipments at several production sites in France, as the euro zone's second-biggest economy continues to face widespread protests over government plans to increase the retirement age.
The company said on Thursday shipments were blocked at La Mede, Donges, Normandy and Dunkirk, but added it continued to make sure petrol stations were supplied. It added its refinery site at Feyzin was not affected.

Comment: It remains to be seen whether supplies will be interrupted, because strikes just a month or so ago caused shortages in some regions, as well as long queues and panic buying.


A CGT union representative for TotalEnergies said
strike participation across French sites was around 60%.
Figures for Esso refinery sites, run by ExxonMobil
(XOM.N)
, were not immediately available.
One union representative for ExxonMobil said there was "nothing spectacular planned at our sites, no well-organized blockages nor pickets ... Oil workers refuse this reform but don't want to be on the front line."
In electricity, about 100 megawatts (MW) of
power supply was reduced by the strike at the Belleville 1 nuclear reactor
, operator EDF
(EDF.PA)
said. No disruptions to hydropower supply have been communicated.
Many workers in France have started strike protests this month to demonstrate against plans by President Emmanuel Macron's government to reform the country's pension system, which would see the retirement age pushed up by two years to 64.