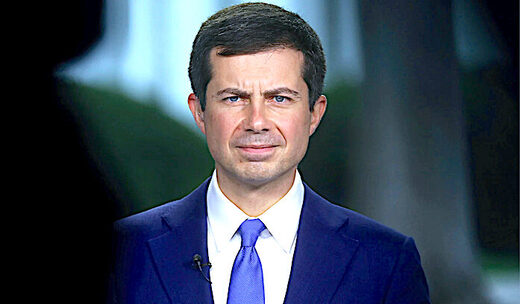 If the secretary of transportation thought he was getting a cushy job with no political risk, he badly miscalculated.
There are no small jobs in the executive branch of the federal government. Oh, sure, there are plenty where there is little prospect of accomplishing anything, and where it could be quite a while before anybody notices if you don't actually do very much. But in most any executive branch job, there are things that can go wrong,
and the higher up the ladder you get, the more of those there are.
Taking a second-tier cabinet job you don't know how to do might look like a low-risk place to park yourself while waiting for a shot at higher office,
but it can swiftly become a political graveyard.
The Secretary of Waiting to Run for President Again
Pete Buttigieg is learning this the hard way.
After the 2020 presidential election, he found himself in a promising but precarious position. As a 38-year-old dark horse candidate, he had impressed Democratic primary voters enough to run a close second to Bernie Sanders in Iowa and New Hampshire (due to the rules of the Iowa caucus, he was declared the winner with fewer votes than Bernie) before getting trampled by Sanders in Nevada and Joe Biden in South Carolina. He then withdrew from the race at a critical juncture.
When he and his arch-nemesis Amy Klobuchar both threw their support simultaneously to Biden, it allowed Biden to sweep most of the Super Tuesday races and walk off with the nomination.
Not only was Buttigieg marked as a rising man in the party,
but the new president owed him big time.
What Buttigieg didn't have was a job or an obvious next move.
He'd never won an office higher than mayor of South Bend, Ind., which he left after two terms in 2019. South Bend is the fourth-largest city in Indiana. Indianapolis is eight times its size, and Fort Wayne is two and a half times its size. No disrespect to Fort Wayne,
but nobody thinks of it as a major American metropolis, yet it dwarfs South Bend.
Buttigieg's presence was not that essential:
He spent
seven months in Afghanistan
in the Army Reserve in 2014, and the city's heavily Democratic electorate still reelected him with over 80 percent of the vote the following year.
In his sole bid for statewide office in deep-red Indiana, when he ran for state treasurer in 2010, Buttigieg lost to Richard Mourdock by 25 points. True, Mourdock was the incumbent, it was a Republican wave year, and Buttigieg was an unknown 28 year old, but this is the same Richard Mourdock who in 2012 went the way of Todd Akin, becoming the only Republican to lose a Senate race in Indiana since 2004. Not exactly an unstoppable political juggernaut.
In short: Buttigieg's future isn't in Indiana.
Even if he wanted to pass on statewide office and seek a U.S. House seat, South Bend is located in a deep-red R+14 district, and of the state's two House seats that are competitive for Democrats, one is in Indianapolis and held by André Carson, who would thrash Buttigieg with the district's black voters.
Buttigieg has since relocated his nominal residence to Michigan,
but he has declined to jump into the 2024 Senate race that opened up when Debbie Stabenow announced she was not running for re-election.
So, with a statewide path to advancement blocked, Buttigieg did what politicians do:
He cashed in the favor he was owed, and took a job as Biden's secretary of transportation.
He probably thought this would be a quiet, uncontroversial job from which he could gain some D.C. experience, contacts, and gravitas, give a bunch of fluffy speeches, open some new bridges, pursue some low-grade progressive culture-war stuff like
ranting against the racism of Robert Moses
, and otherwise
hang out awaiting the next opportunity to run nationally.
But he forgot the
lesson
I drew from the George W. Bush years: "There Are No Small Jobs"
Every Administration finds room for some people who are either not especially qualified or not on the team. Presumably, presidents think, or hope, that they can stow a crony in a job where they won't attract much attention or carry much responsibility, or can pick someone who is popular but not that loyal without risk of blowback. But woe to the president who thinks any appointment carries no risk of adverse consequences. The poster boy for this problem was Mike Brown as the head of FEMA....
Or consider the two main hat tips to bipartisanship in Bush's original team - Democratic Congressman Norman Mineta as Secretary of Transportation and Bill Clinton's CIA Director, George Tenet. Mineta's job, which involved supervising airport security policies, hardly seemed in early 2001 like it would be a flashpoint for controversy, and Tenet was a veteran bureaucratic operator. Both ended up being long-time thorns in Bush's side, with Tenet embroiled in controversies over both the pre-9/11 and pre-Iraq War intelligence and Mineta pushing for insanely counterproductive restrictions on identifying potential threats among airline passengers.
Not Making the Trains or Planes Run on Time
Buttigieg came to office with no specialized experience relevant to the transportation industry. With his background as a management consultant, Army Reserve intelligence officer, and local mayor,
he was a textbook generalist.
True, American cabinets have often been stocked with talented amateurs more skilled at politics or law than in the field they are overseeing — for example, Edwin Stanton performed miracles of military logistics and supply during the Civil War with a background as a patent lawyer — but there are many more
examples of people being swallowed whole by specialized fields they didn't understand.
To avoid that pitfall, Buttigieg would need to devote significant effort to getting up to speed quickly on transportation issues without getting snowed by department bureaucrats or industry lobbyists.
Instead, Buttigieg decided to
adopt
children and
take two months of paternity leave off work out of his first nine months in office
.
His argument was that the children had health problems, but this is a foreseeable risk of having children, especially when they are not your own biological offspring, and thus
the timing is a matter of choice.
The tradeoff was that,
at a time of global-supply-chain crisis and with the airline industry still struggling after the pandemic, Buttigieg made a choice to leave the Transportation Department to run itself without his active supervision
. Learning the ropes would have to wait.
In retrospect, that was a gamble that had real costs. The immediate problem was that
the media and the public noticed that the supply-chain crisis
—
a significant contributor to the past year's runaway inflation
—
was not being meaningfully addressed
by the "Supply Chain Disruptions Task Force" that Buttigieg was supposed to be helping lead. Over a year later, a Freedom of Information Act request
revealed
that Buttigieg declined public appearances and even a call with a key senator while on leave.
The supply-chain crisis has been resolving itself over time, but hardly at an impressive pace. In the meantime, further fiascoes have arisen on Buttigieg's watch, to the point where Alexi McCammond and Josh Kraushaar of Axios can
write
that
"historic transportation crises haunt Buttigieg":
A safety system outage forced the Federal Aviation Administration to temporarily ground all U.S. flights Wednesday for the first time since the 9/11 attacks.

Just weeks earlier, a systemwide meltdown at Southwest resulted in thousands of flight cancellations and delays over the holidays.
Late last year, Congress had to step in to avert a nationwide freight rail strike after union workers rejected a Biden administration-brokered deal over the lack of paid sick leave.

Meanwhile, global supply chain snarls linked to the COVID-19 pandemic have caused massive disruptions to U.S. ports dating back to 2021, resulting in widespread product shortages and persistent inflation.
There were also
thousands of canceled flights over Memorial Day
, so there was warning of the precarious state of air travel.
The FAA failure this week, and the Southwest failure over Christmas, were both the apparent result of outdated systems, with the FAA system being a government operation.
In the case of Southwest, as Jim Geraghty has
detailed
, Buttigieg was promising improvements by the Christmas holidays in the fall.
Instead, the exact opposite happened
— apparently while Buttigieg and his agency were doing little and ignoring a rising tide of customer complaints and warnings.
In the case of the latest FAA failure,
which grounded
more than 10,000 flights
,
there were
complaints for years
about the FAA's creaky,
outdated Notice to Air Mission (NOTAM) system.
(The complaints had even prompted Representative Pete Stauber (R., Minn.) to propose reforms before any of this happened.)
Yet the only discernable step taken by Buttigieg was to rename NOTAM in December 2021 from its original name, Notice to Airmen,
which was deemed insufficiently gender-inclusive.
It speaks volumes about Buttigieg's values, and the depth of his understanding of DOT's responsibilities,
that this was a higher priority for him than making sure the planes would not get grounded.
It hasn't helped Buttigieg that
there is still no Senate-confirmed head of the FAA.
Confirmation should be easy in Chuck Schumer's Senate, but
nominee Phillip Washington
— who was nominated in July 2022 after the prior Trump-appointed head stepped down in March —
still has not even had a confirmation hearing.
This has less to do with Republican opposition than with the baggage that the nominee, presently the CEO of Denver International Airport, brings to the job.
Washington,
who ran the Los Angeles County Metropolitan Transit Authority from 2015 to 2021,
was already under fire for lacking long experience in aviation,
and then the news broke in September 2022 that
he had been
named in a Los Angeles County search warrant
involving allegations of corruption
in a no-bid contract given "to a nonprofit group headed by one of Los Angeles County Supervisor and Metro board member Sheila Kuehl's friends to shore up Kuehl's support." He had other issues: "In one case, he issued a no-bid contract for a nonprofit group to establish a sexual harassment hotline for the agency with a cost that worked out to $8,000 a call."
There is a whistleblower, who claims that Washington ordered her to pay a bill of $75,000 to Peace Over Violence in 2015, before the MTA had even authorized the contract. "He stated he'd rather not upset any of Supervisor Sheila Kuehl's friends rather than dispute the veracity of the bill," according to the warrant's account of witness testimony, adding that Washington said "he would rather pay the $75,000, so he could later use that to his advantage when he needed a political favor from Supervisor Sheila Kuehl."
It is unlikely that Buttigieg had much to do with Biden's nomination of Washington,
but he obviously didn't have the knowledge of the field and its players necessary to push back at the choice.
That is a recurring issue: Being out of his depth, Buttigieg has to leave the serious work to others.
In the rail-freight strike, the Biden administration deployed Labor secretary Marty Walsh as its point man,
while Buttigieg
— as Jim has again
covered comprehensively
—
was doing public appearances at the Detroit Auto Show, appearing on late-night talk shows, and pushing Democratic talking points about inflation, climate, and race.
At the same time,
Buttigieg has been happy to use the perks
that come with a senior executive job, such as flying on
private jets
and
government jets
at the public's expense, including
flying a military jet to a sporting event
, even while nagging the rest of the country about the carbon footprint of their travels and commutes.
When Buttigieg inevitably seeks higher office, or even a promotion to a better slot in this administration, he will be betting that nobody looks too closely at his record as secretary of transportation. But he may find that in taking the post, he bought a non-refundable ticket.
About the Author:
Dan McLaughlin is a senior writer at National Review Online and a fellow at National Review Institute. @baseballcrank