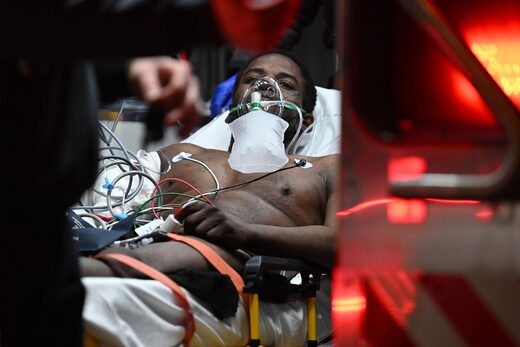 A man was threatened with a hatchet and two women attacked - one stabbed in the stomach and the other struck with a metal pole - during a violent weekend on the Big Apple subway system, authorities said.
At least seven straphangers were assaulted between Saturday and early Monday.
Kyle Westby, 42, was standing on the southbound platform for the 2, 3, 4, and 5 trains at the Franklin Avenue station in Prospect Heights around 12:30 a.m. Monday when two men approached him, one of whom asked: "Why are you staring at me?"
"I saw him reach into his jacket and pull out a brown object. He swung at me and I ran. The stairs were two feet away, so I ran up the stairs, and thank God the cops were there," Westby, a supervisor at a fireproofing company, told The Post Monday.
"I said, 'Officers, this man swung at me with an ax.' Immediately, they went down and apprehended him."
Transit cops in the station took the suspect, identified as Robert Griffith, into custody at the scene, authorities said.
Griffith, who also lives in Brooklyn, was charged with attempted assault, menacing and criminal possession of a weapon, cops said.
Griffith also had a punch dagger and screwdriver in his possession, cops said.
In a separate incident in the Highbridge section of the Bronx, Evelina Rivera, 30, was chatting with a fellow straphanger on a southbound 4 train near 167th Street around 2:30 a.m. Monday when a man who appeared to be homeless told them to "shut the f-k up," police said.
"We're like, 'Anyway,' and we keep talking, and he's like, 'I'll make you shut up,' and he comes with the pole," Rivera recounted.
"He tries to strike her, misses by a millimeter, broke the subway window ... She used mace, blinded him, and now he's attacking wildly. I get hit," she went on.
"He hit me so hard, the ball came out of my [septum] piercing. It's crooked."
Rivera got off the train at 167th Street and refused medical attention, police said.
But her attacker - described as in his late 30s, with facial piercings, a tattoo on his hand, and wearing all black - stayed on board.
He was still at large later in the morning.
Seven minutes earlier in Manhattan, a 22-year-old man was going through the turnstile for the shuttle to Grand Central at 42nd Street-Times Square when four men approached him, punched him in the face and stole his cellphone, cops said.
No weapons were displayed, police said.
The alleged muggers took off after the incident.
The early Monday attacks came after a stranger randomly punched a 69-year-old man in the face as he stood on the northbound B train platform at Broadway-Lafayette Street in Manhattan around 8:15 p.m. Sunday, cops said.
The victim was taken to Lenox Hill Hospital in stable condition, cops said.
The assailant took off after the incident.
About two hours earlier, a 31-year-old man was knifed twice in the arm in an unprovoked attack aboard a 6 train approaching the Canal Street station, cops said.
The male suspect stayed on the train as it headed to the next station.
The victim was taken to Bellevue Hospital in stable condition.
A 20-year-old woman was also randomly attacked around 2:50 p.m. Saturday while waiting for a northbound 3 train at Van Siclen Avenue in East New York — when a man punched her in the back unprovoked, authorities said.
When the victim tried to defend herself, the man displayed a knife and stabbed her three times in the stomach, police said.
She was taken to an area hospital in stable condition.
Cops released surveillance images of the suspect Sunday.
Later that night,
two men were slashed
in Upper Manhattan subway stations — one in Washington Heights and the other in Morningside Heights, cops said.
The incidents come as Mayor Eric Adams'
new subway safety plan
is set to go into effect Monday.
Teams of NYPD cops and outreach workers are set to start canvassing trains and subways stations across the city under the mayor's plan to crack down on rule-breaking and eliminate homelessness.
The teams will also seek to identify mentally ill and homeless people in a bid to stop them from living on trains and in the stations — and work to get them the treatment they need.