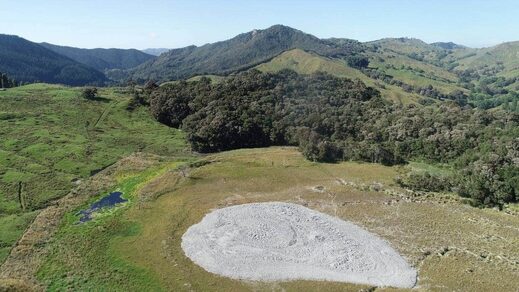 A mud volcano that burst to the surface on a farm near Gisborne threw large rocks 50 metres and
is continuing to "bubble away", 10 days after it erupted
.
Gisborne District Council scientist Murry Cave​ said
the mud volcano appeared on Monowai Station in the head of the Waimata Valley, about 25km north of Gisborne, about 7.45pm on December 10
.
"It was accompanied by a sound that the landowners initially thought was thunder,"
Cave said.
He said mud volcanoes
were a natural but rare phenomenon in New Zealand, and Gisborne/Tairawhiti had quite a few. This latest one is about 2km from the last mud volcano eruption in the area,
which occurred in December 2018.
"This latest one is a bit smaller than that one. It happened over about an hour, but is still bubbling away. There's quite a bit of bubbling going on, but it's not ejecting any more mud at this stage," he said.
This mud volcano is on farmland a long way from any houses or structures, unlike the 2018 one, which was only 150 metres from the nearest house.
"Despite their name, they are not related to volcanoes or to geothermal mud pools such as at Rotorua. Instead,
they relate to faults and often have a delayed reaction to major earthquakes. This event is probably a delayed response to the
March 5th Te Araroa earthquake
," Cave said.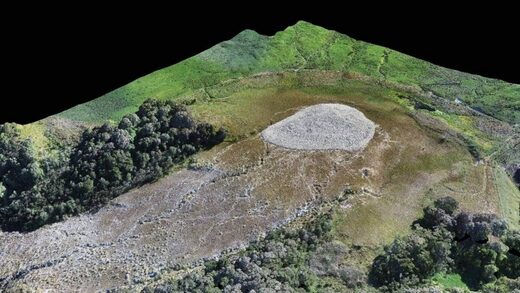 Mud volcano eruptions eject gas, water and rocks into the air "and in this instance quite large rocks were thrown around 50m clear of the mud volcano itself", he said.
"The rocks ejected can come from many kilometres underground and is
generally a mix of many types of rocks not typically seen at the surface
.
"The gas associated with the mud volcano is dominated by methane, but can include other gases such as ethane, propane and butane. Sometimes, there is oil associated with such eruptions but not in this case."