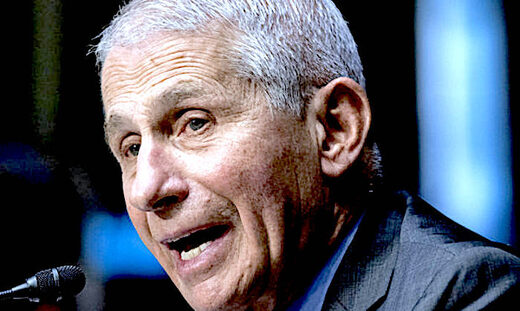 Anthony Fauci said on Saturday that he thinks smallpox and polio would still be spreading in the U.S. if today's "false information" were present then.
"If you look at the extraordinary historic success in eradicating smallpox and eliminating polio from most of the world, and we're on the brink of eradicating polio, if we had the pushback for vaccines the way we're seeing on certain media, I don't think it would have been possible at all to not only eradicate smallpox; we probably would still have smallpox, and we probably would still have polio in this country," Fauci,
President Biden
's chief medical adviser, said in response to a question from "CNN Newsroom" host
Jim Acosta
.
"If we had the kind of false information that's being spread now, if we had that back decades ago, I would be certain that we'd still have polio in this country," he added.
Surgeon General
Vivek Murthy
issued an advisory
on Thursday calling health
misinformation an "urgent threat,"
saying in a statement that
"it can cause confusion, sow distrust, and undermine public health efforts, including our ongoing work to end the COVID-19 pandemic."

Comment: In other words, spreading information that contradicts their narrative may open peoples' eyes to the humongous psy-op that has been ongoing for the last 18 months. Governments and private corporations do not have the public's best interests at heart and the 'solutions' they have offered are actually harmful rather than helpful.


The advisory urges technology and social media companies to do more to fight misinformation on their platforms, including redesigning algorithms
to refrain from amplifying misinformation and strengthening monitoring.
Comment:
Straight from the Event 201
playbook
:
Governments and the private sector should assign a greater priority to developing methods to combat mis- and disinformation prior to the next pandemic response. Governments will need to partner with traditional and social media companies to research and develop nimble approaches to countering misinformation. This will require developing the ability to flood media with fast, accurate, and consistent information. Public health authorities should work with private employers and trusted community leaders such as faith leaders, to promulgate factual information to employees and citizens. Trusted, influential private-sector employers should create the capacity to readily and reliably augment public messaging,

manage rumors and misinformation, and amplify credible information to support emergency public communications.

National public health agencies should work in close collaboration with WHO to create the capability to rapidly develop and release consistent health messages. For their part, media companies should commit to ensuring that authoritative messages are prioritized and that false messages are suppressed including though the use of technology.
Murthy's comments come as concerns over COVID-19 have risen in recent weeks, especially with the more contagious delta variant spreading rapidly throughout the U.S.
Vaccination rates are also down in the country, as many in the vaccine-hesitant population are still refusing to get inoculated.
The director of the Centers for Disease Control and Prevention,
Rochelle Walensky
, said on Friday that COVID-19 is
"becoming a pandemic of the unvaccinated,"
as the majority of recent hospitalizations and deaths are people who have not been inoculated.
Comment:
If the US infection rates are anything like the UK's, then the infections are actually
propagating in the vaccinated
not the unvaccinated. A vigilant citizen kindly put together two graphs from Our World in Data that showed three European countries with some of the highest vaccination rates also have the highest infections... coincidence?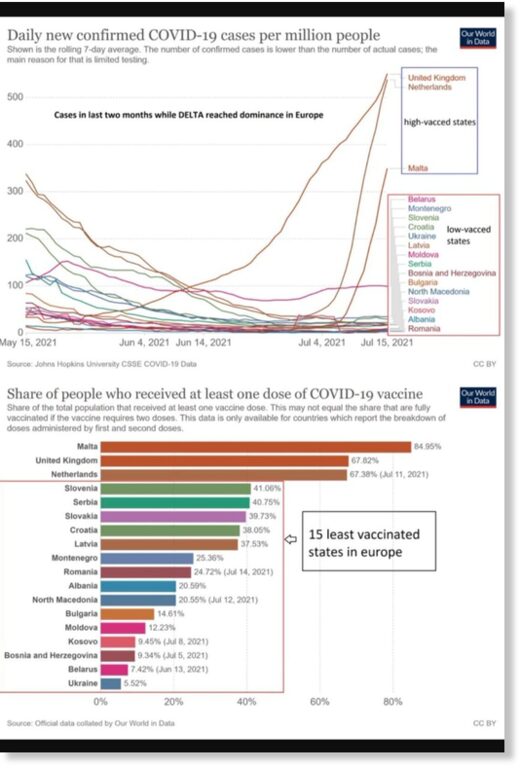 Biden on Friday said social media platforms are "killing people" when answering a question about his message to corporate giants regarding COVID-19 misinformation.