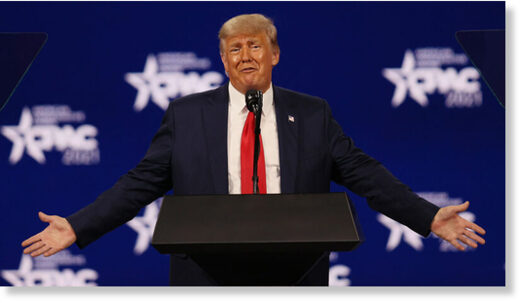 How dare he point out a biological fact!
Speaking publicly for the first time since the end of his first term, President Trump riled leftists by urging that the 'integrity' of women's sports is under threat from trans athletes, a phenomenon that is being supported by the new administration.
Shockingly, Trump claimed that trans athletes competing in sports against women were born men.
How dare he point out a biological fact!
Within minutes, the headlines read 'Trump attacks transgender community':
Pointing out that men have athletic advantages over women is 'transphobic':
The choice of Trump's words was over-analysed by the froth brigade:
Trump wasn't pointing out that it isn't a level playing field when people with bigger muscles and bone structures are allowed to compete in sports against women. No, he was 'mocking' trans genders:
Of course, it's all just a big plot by rapey pedo abusers to distract from themselves:
'Transgender kids'?
Elsewhere during Trump's CPAC speech he all but
confirmed he will run in 2024.
Meanwhile, Biden struggled to read the names of some Democrats Friday and once again didn't seem to know where he was or what he was doing:
Odds are Trump won't be running against this guy again.