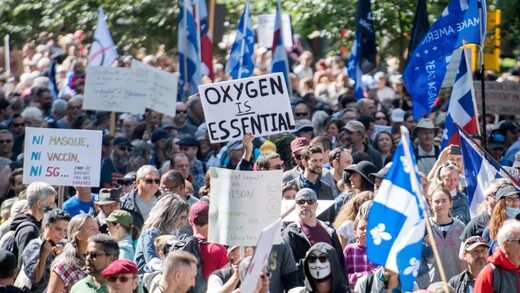 Comment: This protest was widely smeared in the MSM as a gathering of 'conspiracy theorists'. While there were, no doubt, conspiracy theorists present (whatever that means) one obviously doesn't have to believe in any conspiracies to be against the forced mandate of mask wearing. The CBC should be ashamed of their biased reporting, but of course, they're not.


Several thousand people gathered Saturday in downtown Montreal to hear speeches from conspiracy theorists and anti-vaccine activists, in one of the largest demonstrations to date against the Quebec government's response to the COVID-19 pandemic.
The march began outside Premier François Legault's Montreal office, and at one point stretched more than six city blocks. It attracted people of all ages, and
from a wide-variety of mindsets.
Hare Krishnas marched alongside Christian fundamentalists and supporters of U.S. President Donald Trump. Others held signs about the 5G internet network, or perceived corruption at the United Nations.
"I decided to come today to say 'enough,'" said Montrealer Andrée David, 75. "We've been manipulated enough."
The most popular symbols at the protest — be it on t-shirts, placards or flags — belonged to QAnon, a far-right conspiracy theory started in the United States that claims a satanic, pedophile cabal secretly controls the U.S. government, if not the entire world.
QAnon was labelled as a national security risk by the FBI in 2019 after individuals began committing acts of violence based on the mistaken belief the theory is true.
The march on Saturday culminated in a densely packed rally outside the Radio-Canada building. Speakers accused the government of over-reacting to the threat of COVID-19 and lying about the danger of the disease, which has killed nearly 5,800 in Quebec. Behind the stage, two men waved large QAnon flags.
"I accuse public health [officials] of manipulating the numbers since the beginning of the pandemic to justify bringing our economy to a halt," Jean-Jacques Crèvecœur, an anti-vaccine activist well-known in Europe, told the crowd.
Other speakers included Stéphane Blais, who believes the pandemic is part of an "international coup" and Lucie Laurier, an actress best known for her minor roles in the
Bon Cop/Bad Cop
films. She has become the most recognizable spokesperson of Quebec's anti-mask movement.