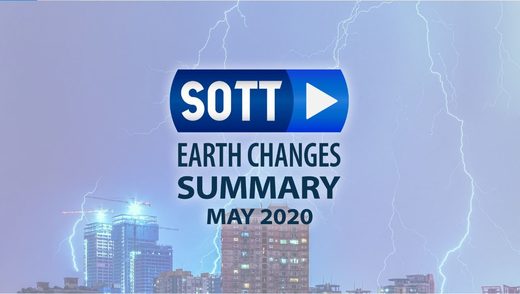 As the Sun enters a 'lockdown' period, Earth is charging up and responding accordingly. Lately, even mainstream science reports acknowledge this solar minimum could bring freezing weather, famine, increased earthquakes, and catastrophic volcanic eruptions... and the latest displays of Earth Changes from May 2020 are pointing to exactly that.
But decreased solar activity does
not
account for all that is going on. The Sun is quiet, yes, yet the planet is being super-charged. So whatever is 'grounding' the Sun has set powerful currents running through Earth. The Sun actually unleashed its solar flare since 2017 on May 29. Something that can get more dangerous for satellites and power grids if our magnetosphere continues to weaken.
Funnily enough, the eruption of intense rioting in the USA over the killing of George Floyd coincided with this solar flare... a human-cosmic connection?
Also last month, swathes of the northern hemisphere returned to winter conditions - just one month out from summer, and despite a record-warm in much of Europe, Russia and Northern America. In the southern hemisphere, meanwhile, early snow and cold records were broken despite winter having not yet 'officially' begun.
Absurd volumes of water continue falling out of the sky the world over, with devastating flash-floods and landslides hitting Kenya, India, Oman and Central America last month - hundreds of people were killed and thousands displaced.
India, Pakistan and East Africa suffered their worst locust plagues in decades, causing major crop failures, which, combined with the
unnecessary
food losses caused by the lockdown, suggests we might be looking at serious food shortages in the near-future.
Atmospheric electrical activity continues to amaze - and kill lots of people and animals, unfortunately. Last month, Washington DC alone registered over 87,000 lightning strikes in a single day... that is nearly 23 times its annual average!
All that and more in our SOTT Earth Changes Summary for May 2020:
Watch it also on Sott.net's
Vimeo channel:
To understand what's going on, check out our book explaining how all these events are part of a natural climate shift, and why it is taking place now:
Earth Changes and the Human-Cosmic Connection
Check out previous installments in this series - now translated into multiple languages - and more videos from SOTT Media
here
,
here
, or
here
.
You can help us chronicle the signs by sending your video suggestions to: