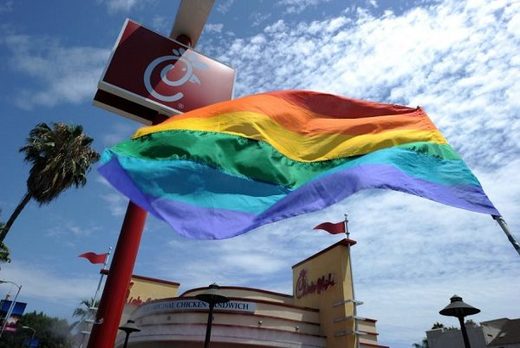 Gay rights campaigners in Reading, England, are celebrating after a protest campaign seemingly led to the closure of the UK's first and only Chick-Fil-A restaurant, all over its American founder's supposed anti-LGBT views.
Just days after the restaurant started dishing out chicken sandwiches and waffle fries from The Oracle shopping center in Reading, management of the center announced on Saturday that Chick-Fil-A's six-month lease at the mall would not be extended, saying that expelling the chain was
"the right thing to do."
The restaurant had been picketed by protesters, not for its fattening fast food, but for its American owners'
supposed
anti-LGBT views. Gay rights group Reading Pride had led a protest campaign against Chick-Fil-A and were
joined by local Labour Party councillors
in calling for an end to "bigotry and hatred on your high street."
Though Reading Pride stated "we respect everyone's freedom to eat wherever they choose," the group nonetheless celebrated The Oracle's decision not to extend Chick-Fil-A's lease.
A spokesman for the restaurant stated that the six-month lease was always intended to be temporary, as the company looks to expand internationally.
Though relatively unknown in the UK, Chick-Fil-A is an iconic American institution. Founded in Atlanta, Georgia, in 1967, the company operates more than 2,300 restaurants in 47 states. It has been voted America's favorite restaurant chain for the last four years in a row, according to the American Customer Satisfaction Index.
The
management's religious beliefs
, however, have proven controversial. Founded by a devout Southern Baptist, S. Truett Cathy, Chick-Fil-A doesn't open on Sundays or Christian holidays, and includes a pledge to
"to glorify God"
in its corporate mission statement.
Comment:
And that is likely another reason the mob has targeted Chik-Fil-A - management's Christian beliefs:
From Christian faith to nihilistic void
Real religions respect life, while psychopaths aim to destroy life. Religions teach that others are our 'brothers and sisters' while psychopaths consider others as objects. Religions extol love, while psychopaths embrace hate. Religions advocate marriage and faithfulness, while psychopaths seek abusive sex and domination. Religions value honesty, while psychopaths lie and deceive as a rule. Religions convey the concepts of universal good and bad, while for psychopaths, that which serves their selfish interest is 'good' and that which opposes it is 'bad'.

As you can see, the values conveyed by most traditional religions are almost diametrically opposed to psychopathic 'values'. Since psychopaths want to submit us and impose upon us their deviant vision of the world (that's the core feature of ponerization), religious principles are a major obstacle to that process of subversion. Religions provide us with moral references that help us resist the ponerization of our minds and societies.
The company has donated millions of dollars to Christian charities that oppose same-sex marriage and CEO Dan Cathy sparked a boycott in 2012 when he publicly stated his support for the "biblical definition of the family unit." Cathy also claimed that gay marriage was "inviting God's judgment on our nation."
With liberals fuming, Twitter CEO Jack Dorsey even
apologized
for eating Chick-Fil-A last year.
However, despite the boycott campaign, Click-Fil-A's annual sales have more than doubled since 2012.
Gay protesters in Reading have claimed victory, but vowed to continue their demonstrations outside the restaurant over the next six months. Meanwhile, the campaign has drawn the ire of some commentators, with some suggesting the critics could simply
"just not eat there."