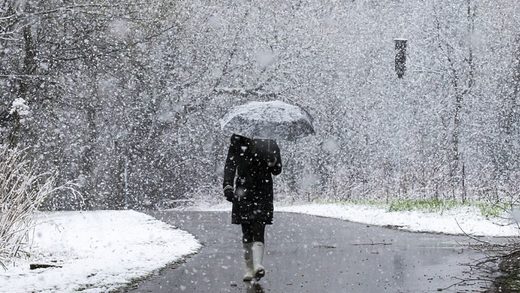 With only a mere four days until May, north-central United States residents witnessed an unusual sight as more than 2 inches of snow fell in Chicago for the first time in more than a century.
"The last time 2 inches of snow fell this late was back in 1910, so it is very uncommon for this late in the year,"
AccuWeather Meteorologist Alan Reppert said.
The highest snowfall total as of Sunday evening is in Beloit, Illinois, which saw 4 inches of snow.
A winter storm warning was in effect on Saturday for northern Chicago areas as a mix of snow and rain continues into the evening.
"With it being April, we can still see some snowfall in the city, but most of the snow for April falls early in the month," Reppert said.
In order for snow to accumulate in late April outside of high-elevation areas, it must come down at a fast pace.
"As the sun sets, we could see some of this snow start to accumulate on roadways and make for slick travel. The latest inch of snow was on May 3, 1907, and the latest trace of snow is May 26, 1889," Reppert said.
The snow in Chicago led to more than 700 canceled flights at the city's O'Hare International and Midway International airports
on Saturday,
according to FlightAware
.
The baseball game scheduled for Saturday between the Chicago White Sox and the Detroit Tigers was postponed due to inclement weather.