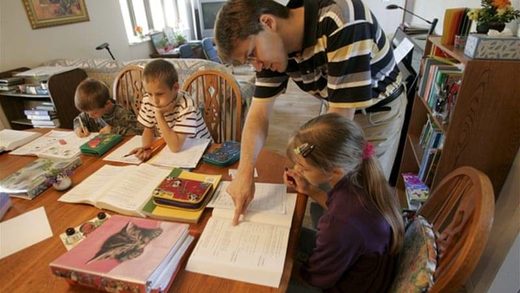 This is very funny. The Center for American Progress (
Wikipedia
) is a major liberal foundation, basically, a front organization for the Clinton machine, which is now searching for a reason to exist. Major funders include Bill Gates, the Ford Foundation, and the United Arab Emirates. They have a news site, ThinkProgress, which ran an 'investigation' headed by this intellectual heavyweight, Casey Michel.
He quotes an 'expert' who says that homeschoolers are often 'Christofascists', and cites me, whom he describes as 'rabidly anti-semitic', linking to a Daily Beast
article
. He finds it alarming that
I ran a favorable article
about a big pro-Christian homeschooling conference recently held in St. Petersburg. It was written by
Father Joseph Gleason
, the American editor of
Russian Faith
who homeschooled his 8 children. Michel frets that
Russian Faith
, which I publish, is 'Kremlin linked', whatever that means.
Do read all about this frightening development that threatens the very foundations of our great Republic. Russian Christian homeschoolers are flourishing, and networking with and benefiting from the experience of Americans who have developed excellent Christian curriculums, books, and study materials. We can't have that now, can we! Shut it down!
One of our staff wrote an excellent informative
article
about the phenomenon last February, and we did it without accepting millions of dollars from Arabs. Michel worries about my good friend Alexey Komov, who is homeschooling his 5 children, who set up a venture to translate American homeschooling materials
into Russian
. Michel intones ominously that Alexey 'speaks fluent English'! Sounds like a nefarious plot to me.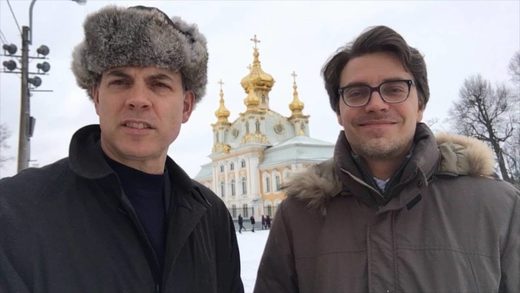 Incidentally, if you dear reader, want to meet some of the people mentioned in this article; Mr. Komov, Father Dmitry Smirnov (a wonderful man and one of the most beloved figures in Russia - I've even
been a guest
on his popular TV show, twice), Brian Brown, Father Gleason, and many others like Dr. Steve Turley, and yours truly, then join us all at the
World Congress of Families Conference
in Verona, Italy, March 29 - 31. You might even meet Mr. Michel, who will no doubt be continuing his 'investigation'!
I hope he interviews me, for I could tell him quite a few absolutely terrifying things about how much American and Russian Christian conservatives have in common, and how much they are talking. Turley recently
discussed
the conference at length on his popular YouTube show, which I recommend highly. Come to think of it, Turley homeschooled his 4 children too, and he's Orthodox!. The plot thickens! Italian Deputy Prime Minister Matteo Salvini is the headliner. Watch this space for more information about this fantastic conference.
Michel's article goes on in this vein at quite some length. Honestly Mr. Gates, don't your have better things to spend your money on? I thought you were all about making the world a better, not a dumber place.
I reproduce the entire thing here for your reading pleasure. Take it away Casey!
Link to original article
.
The latest front in Russian infiltration: America's right-wing homeschooling movement



By Casey Michael

This is the latest connection between Russia and the American religious right.

The group and its origins sound innocuous enough. But the Home School Legal Defense Association (HSLDA) - a right-wing group founded 36 years ago - has deepened connections between America's religious right and Russians even as the latter have been sanctioned by the United States, according to a ThinkProgress investigation.

By networking with Russians, the HSLDA - now America's largest right-wing homeschooling association - has provided the Kremlin with a new avenue of influence over some of the most conservative organizations in the United States.

And while investigations by Special Counsel Robert Mueller, intelligence organizations, and congressional committees have focused on Russia's efforts to influence U.S. elections, Russian ties to groups like the HSLDA demonstrate the Kremlin's broader attempts to hold sway over American policies.

Other ties between sanctioned Russia'ns and the American far-right are well documented. From Christian fundamentalists to white supremacists to secession movements to fascists in the so-called "alt-right," the links are as diffuse as they are damning. Not only have these networks brought Russian agents into close contact with higher-ups in the Republican party, but they've presented some of the primary threads of the Kremlin's efforts at upending and unwinding American democracy.

But at the same time that details - and criticism - of these links between Russia and American right-wing groups were emerging, the HSLDA co-sponsored a formal homeschooling conference in Moscow and St. Petersburg, ThinkProgress found. One of the conference's other sponsors was a foundation run by sanctioned Russian oligarch Konstantin Malofeev. The event featured some of the most outspoken anti-LGBTQ officials in Russia, and included a Russian official who's currently sanctioned by the U.S. for her role in stoking Russia's invasion of Ukraine.


This Global Home Education Conference, which hosted more than 1,000 attendees from over 20 countries, provided a platform for these Russian officials and their networks to work with leaders of America's homeschooling movement - all of it taking place as Russian links with the American far-right continue to spill out elsewhere.



Sanctioning homeschoolers



Since its founding in 1983, the Virginia-based HSLDA has become America's most prominent homeschooling organization. The group, which advocates on behalf of homeschooling families, has a right-wing religious bent. It describes its employees as "Christians who seek to honor God" in their work. Its founder, Michael Farris, has described homeschooling as "a way to obey God's command to teach our children to love God."

"[HSLDA] is probably the major player who's driven American homeschooling in the last 30 years, and they've always been a very far-right, religious-right organization," said Kathryn Brightbill, a legislative analyst with the Coalition for Responsible Home Education, a nonprofit that advocates for accountability in homeschooling. "HSLDA has pretty much always existed in part to create that next generation of soldiers for the religious right to train up kids to take over in politics," she said.

As it grew into the most prominent homeschooling organization in the U.S., it attracted the attention of Russians leading efforts to build relationships with the American far-right.

Russians and the American right started plotting in 1995. We have the notes from the first meeting.




Comment: ThinkProgress makes the bust. Oh, the horror!




These groups and individuals would help obscure the true nature of Moscow's kleptocratic dictatorship to Americans, especially to segments of the American right. In 2014, the Kremlin pushed these relationships further: as U.S.-Russian relations fractured following Russia's invasion of Ukraine that year, Russians close to the Kremlin looked to propel themselves directly into the types of groups and movements pushing "traditional values," especially within the American religious right.




Comment: Gotta get the Crimea trope in, or Michael may miss a bonus?




One of these groups, the World Congress of Families (WCF), played an outsize role linking sanctioned Russian officials to the broader U.S. religious right. The WCF, which the Southern Poverty Law Center has designated a hate group, is a joint Russian-American project that reportedly receives funding from sanctioned Russian oligarchs like Malofeev and Vladimir Yakunin, the latter of whom is the former head of Russian Railways and a close Putin confidant.




Comment: The ideologically-driven radical leftwing SPCL is the last place to be taking cues on political organizations.


The WCF took credit for helping pass a 2011 Russian law restricting abortion access, and has likewise helped build an international coalition of anti-LGBTQ forces. It boasts some 50 membership organizations who pay dues, including the Alliance Defending Freedom and Family Research Council, which are also designated hate groups by the SPLC. The WCF took credit for helping push Russia's 2013 "Anti-Propaganda Law," which effectively demonizes the entire LGBTQ community.

In 2014, the WCF announced it would host its annual conference in Moscow. (The group's most recent conference, which ThinkProgress covered, was held in Moldova, and featured many of the same Russian figures who joined the HSLDA in Russia last year.) After the U.S. began issuing sanctions on Russia in 2014in response to Russia's annexation of Crimea and Russian funding for separatists in Ukraine, the WCF announced it would no longer be organizing the conference, citing concerns about potentially breaching those sanctions.


But the conference was held anyway, and appeared almost identical to what the WCF had originally planned. And while some American groups like the Concerned Women for America decided to skip the conference, a number of Americans showed up - including Michael Donnelly, the HSLDA's director of global outreach.

The HSLDA didn't publicize Donnelly's visit to Russia. (Other groups, like Texas secessionists, have also traveled to Russia in recent years while refraining from posting anything publicly about their visits.) But Brightbill, with the Coalition for Responsible Home Education, discovered that Donnelly followed through on his pledge to speak at the conference.

In a series of Facebook posts that Brightbill uncovered, Donnelly wrote that he "met with senior leaders of the [Russian] Orthodox Church." As Donnelly noted on Facebook, "[The] family conference I'm attending today is being held at the Kremlin and says a lot at least on its face about the value of family in Russian government."

Donnelly confirmed he attended the conference, writing in a text message that he was "there on official business."

Donnelly's visit, Brightbill said, was "super hush-hush." And for good reason: In 2014, Americans' ties to Russia were suddenly under U.S. scrutiny. Russia had just invaded Ukraine and supplied separatists with weaponry that brought down Malaysian Air Flight MH17, killing 298 people.

But for those following Russian outreach efforts to the American far-right, that 2014 conference was a turning point. It marked a moment in which Russia "[took] on the mantle of leadership of global social conservatism," said scholar Chris Stroop, an expert on links between between Russia and the American religious right who received a doctorate from Stanford in Russian history.



Enemies of America, friends of the HSLDA



By 2018, those ties between the HSLDA and networks of sanctioned Russians had continued, and had deepened. One of the primary links between the HSLDA and sanctioned Russian officials is Alexey Komov. A Russian national, Komov speaks fluent English and has spent the past few years as the official Russian representative to the WCF. He also works directly for Malofeev - a man nicknamed "God's oligarch" for his role in financing religious-right ventures in Russia and abroad. Malofeev is also currently under U.S. sanctions for having helped fund separatists in eastern Ukraine.


Komov helped the HSLDA bring the annual Global Home Education Conference to Russia last May - the first time the conference was hosted there. The decision effectively represented the culmination of Russia's efforts to liaise with the American right-wing homeschooling movement. One of the outlets that promoted the conference was a pro-Kremlin site called Russian Faith, which is run by the rabidly anti-Semitic Charles Bausman; another WCF adviser, Pavel Parfentiev, who claimed credit for Russia's ban on adoptions by LGBTQ couples, also spoke at the conference.

Donnelly said the 2018 conference wasn't specifically an HSLDA project, but that HSLDA was simply one of the event's co-sponsors. He also said that HSLDA provided no direct financial support for the conference. "The conference is a project supported by HSLDA, but it's not HSLDA [as] the organization that actually did the conference," he told ThinkProgress. "We felt that [Russia] was a good place to go - and it turns out it was."


But it appears the HSLDA played an important role in organizing the conference: The official contact for the conference is an HSLDA email address, and the conference's official webpage was registered by the HSLDA.

"[Komov] was the primary organizer, Russian organizer, of this homeschooling event," said Allan Carlson, one of the WCF's co-founders and a speaker at the conference. "The chief American sponsoring group was the... HSLDA."



Conferencing with the Kremlin



The conference, held in St. Petersburg and Moscow, billed itself as a "forum to cultivate awareness about home education, its legal framework, social and academic research, and practical experience around the world." It was, according to the official page, "hugely successful." Or as Carlson put it: "I think it was a very significant event."

And that may have been true, in the context of homeschooling. But it was also a coup for sanctioned Russians seeking to connect with the American right.

One of the conference's official co-sponsors, alongside the HSLDA and the far-right Alliance Defending Freedom, was Malofeev's St. Basil the Great Charitable Foundation. And among the speakers - which included some of Russia's most well-known anti-LGBTQ figures, like Dmitri Smirnov - was Yelena Mizulina, a Russian official sanctioned by the U.S. and widely credited for helping lead Moscow's lurch toward far-right social policies over the past decade.

As the Obama White House announced when sanctioning Mizulina in 2014, she was partly responsible for "contributing to the crisis in Ukraine," alongside Russian ultra-nationalists like Dmitry Rogozin and Sergey Glazyev. The Trump White House has continued to sanction Mizulina.

Donnelly told ThinkProgress that the HSLDA has "no links with sanctioned Russian officials and oligarchs."



But in an interview with Pravoslavie, a website focused on Russian Orthodox affairs, Donnelly specifically pointed to Mizulina - who's now in her fifth year under American sanctions - as a model partner for the HSLDA. "I think that Russia has a bright future in the field of family education," Donnelly said. "[Russia has] official and very influential people who support this idea. For example, Yelena Mizulina."

Brightbill noted that Mizulina's support for homeschooling appears to be part of a broader Russian playbook, especially when it comes to building alliances with American far-right groups. "That probably plays a big part in what they were doing with Russia, and how they became so easily played by Russia, since Russian officials are telling them that they are on board with this idea of homeschooling as a human right," Brightbill said.

Some of those who spoke at the conference, such as the WCF's Carlson, tried to downplay the significance of sanctioned Russian officials' and oligarchs' involvement. "The thing just happened," Carlson said.

"[It] makes sense that we would find the leaders of America's Christofascist homeschooling movement networking with Russians with whom they share ideological affinity, even though homeschooling, like gun ownership, is uncommon in Russia," Stroop said, using a term to refer to fundamentalist Christian ideas used in pursuit of totalitarian rule.




Comment: And there the mask drops: "Christofacist". As if promoting healthy family values is fascist.






Donnelly said the HSLDA's Russian partners made the decision to host Mizulina. "We didn't invite her, the locals invited her," he said. "It was a global event, but the locals had some control over who got to come. They wanted her there because of her support of homeschooling and because she's very influential."

But Brightbill doesn't buy it. "HSLDA has acted as a clearinghouse for all these international homeschool organizations for years, so for them to say - 'Oh, this isn't them, they're not the ones who are involved' - it's giving them distance and plausible deniability," she said.


Donnelly said that it doesn't necessarily matter that Mizulina is sanctioned, so long as she continues to back homeschooling.

"I'm very supportive of having people who are in power in a country speaking favorably about home education," he said. "Mizulina, she's on the sanctions list, but she's obviously very influential in the Russian Duma. And so if the homeschooling movement in Russia is going to survive and thrive, they need to have support from influential people. And so [the U.S.] may not like Yelena Mizulina as a country for whatever reason, but in Russia she's very influential, and she's very interested [in] and supportive of home education."



Homeschool infiltration



Donnelly added that no American officials have asked him why the HSLDA participated in the 2018 conference, or why the HSLDA co-sponsored an event that featured a sanctioned Russian official like Mizulina.

"If you want to get me in trouble, go ahead and make that the focus of your article."

"No one's knocked on my door [to ask why HSLDA co-sponsored an event with Mizulina]," he said. "Maybe they will if you start publicizing it. If you want to get me in trouble, go ahead and make that the focus of your article."


While Donnelly said he has no plans to return to Russia in the foreseeable future, Russians who have been making inroads with the American religious right appear eager to continue their work.




Comment: What an ingenuous, even ignorant statement. The Russians have never expressed any interest in bringing their ideas to the States, but are interested in what U.S. organizations are doing to promote homeschooling and wish to learn from Americans who are further down the road. Who is ideologically "invading" whom?




"Our movements have the same issues, the same challenges, and as parents we really want what's best for children," Donnelly said in a 2017 video with Komov. "Would you agree that that's what's motivating Russian homeschooling?"

"Absolutely," Komov responded, smiling beneath falling snow. "I think we have very similar issues - and we should be close together."
Charles is the founder, editor and publisher of Russia Insider. He has worked in finance and investments in Russia since the early 1990s, specializing since 2009 in large-scale investments in agriculture. He worked for the American NBC News in Moscow in the late 1980s. He has an MBA in finance from Columbia University, and a degree in history from Wesleyan University. He speaks Russian and German. He lives outside New York City. He can be reached at charles@russia-insider.com. Follow him on Twitter and on Steemit.