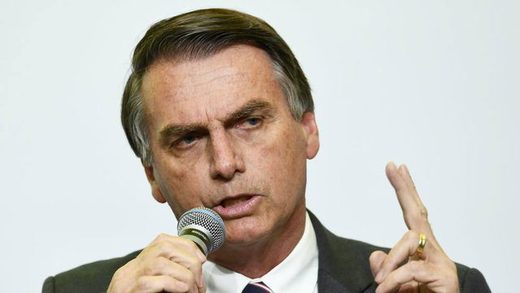 Far-right candidate Jair Bolsonaro on Sunday night won Brazil's presidential election after a divisive and high-stakes race that drew widespread comparisons between him and
President Trump
. Bolsonaro won over Fernando Haddad, who replaced former President Luiz Inácio da Silva after he was jailed for corruption and money laundering.
The far-right populist, dubbed "Trump of the Tropics," had 55.5 percent of the vote with 96 percent voting by Sunday evening in the U.S.
The Brazilian presidential race was marked by massive political infighting and violence, which came to a head when Bolsonaro himself was stabbed in the stomach during a campaign event in September.
Bolsonaro has been fiercely criticized for his incendiary rhetoric that opponents and activists have said is racist, sexist and anti-LGBTQ. He has previously said he would never want a son who is gay and even suggested parents beat their gay children. In one widely-circulated clip, Bolsonaro told a female congresswoman, "I would never rape you because you're not worth it," then threatened to "slap" her.
A movement of mainly women called "Ele Não," or "not him" rose up to oppose Bolsonaro in Brazil over the past year. The women marched and demonstrated in highly public displays of opposition to Bolsonaro's far-right policies and rhetoric.
Bolsonaro is set to become the most right-wing politician in the region
, the
New York Times
reported.
As of Sunday evening, Haddad of the leftist Workers' Party had garnered 44 percent of the vote, more than 11 percent behind his opponent. Bolsonaro, a former Army captain and congressman,
was charged earlier this year by Brazil's attorney general with inciting hatred toward black, gay and indigenous people
.
He has reportedly advocated for restoring "traditional" Brazilian values, a term some Brazilians have interpreted as support for returning to the practices of a dictatorship. He has thrown his support behind torture and mass killings by government forces and has spoken fondly of the country's military dictatorship that lasted 1964-1985.
Some analysts have attributed Bolsonaro's rise to a frustrated and dispossessed electorate, as violence and economic woes have increasingly plagued Brazil.
Bolsonaro is the latest far-right politician to gain prominence in their home country, shortly after similar figures rose to prominence in Italy and Hungary.