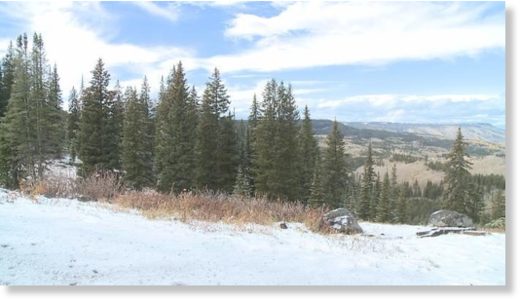 After such a hot summer, any amount of snow seems almost unbelievable.
However, a disturbance that moved in Thursday morning, brought some winter weather to the Grand Mesa.
"We had a very strong system come through today," said Dennis Phillips, National Weather Service.
It brought thunderstorms to Grand Junction, but a dusting of snow, and hail, to the Mesa.
It caught some people by surprise.
"All of a sudden, some lightning and thunder started happening so we got back to our trucks about as quick as we could," said Tony Auciello, Jefferson County Open Space.
The Grand Mesa wasn't the only place that saw some snowflakes.

"Looking at some of the webcams with the high peaks, like above Aspen, they had some light snow and I did see some C-DOT reports that up on Loveland Pass and probably some of the higher ski basins up there, probably got some snow," said Phillips.