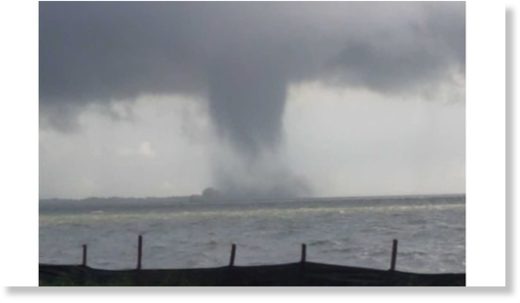 Norfolk, Hampton and the Chesapeake Bay saw heavy flooding, waterspouts and a possible tornado on Sunday.
Norfolk Fire and Rescue says it responded to several reports of a tornado that touched down in the area of the Ocean View Golf Course Sunday morning.
In a tweet at 11:37 a.m., Norfolk Fire Chief Worley reported that there is minor damage, but no injuries.
The tornado has not been confirmed, but the region was under a tornado warning at the time.
Several WAVY-TV viewers also reported seeing a waterspout over the Chesapeake Bay Sunday morning.
The newsroom began receiving pictures shortly after 9 a.m.
The waterspout could be seen from different vantage points across the area.
An areal flood warning for Hampton was issued for the area at 8:12 a.m. Sunday morning.
The warning continued through 11:15 a.m. Sunday.
Old Point Avenue in Hampton was under water Sunday morning.
Many streets off East Pembrooke Avenue in Hampton were also under water.
However, residents in Virginia Beach have also reported flooding.