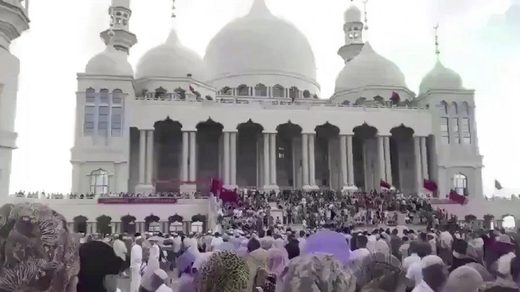 Thousands of ethnic Hui Muslims gathered at a mosque in northwestern China to protest its planned demolition in a rare demonstration against the government.
The Grand Mosque in the town of Weizhou in Ningxia, which has numerous domes and minarets in a Middle Eastern style,
did not receive proper permits before construction
, officials in the town said in a notice on 3 August.
It would be forcibly demolished on Friday, they added in the note, which was widely circulated among Chinese Muslims on social media.
The protest on Friday comes as faith groups, which were largely tolerated in the past, have seen their freedoms reduced
as the government seeks to "Sinicise" religions
by making the faithful prioritise allegiance to the officially atheist ruling Communist Party.
Islamic crescents and domes have been stripped from mosques, Christian churches shut down and bibles seized, and Tibetan children have been moved from Buddhist temples to schools.
The residents of Weizhou were alarmed by news that the government was planning to demolish the mosque
despite initially appearing to approve its construction
, which was completed just last year.
Videos on social media on Thursday showed large crowds gathered outside the mosque and police vans parked nearby. The protest appeared to be peaceful.
Public demonstrations are rare in China
, where the government is often quick to quash any hint of dissent.

Comment: How often? More often than the U.S. (e.g., Occupy Wall Street)? Or less?


Under the country's president, Xi Jinping, the Communist Party is cracking down on religious expression and
attacking what it calls radical ideas among the country's more than 20 million Muslims
.
Well-integrated in society with decades of smooth ties with the government, many Hui have watched with detachment as authorities have subjected the far western region of Xinjiang and its Uighur Muslims to near-martial law, with armed police checkpoints, re-education centres, and mass DNA collection.
The treatment of Uighurs has spurred international outcry, with US officials saying tens of thousands of people have been detained in Xinjiang's detention centres.
But Beijing's policy of "Sinification" of religion has increasingly alarmed many Hui, who fear it is widening its strict measures in Xinjiang to additional Muslim areas, such as Ningxia and neighbouring Gansu province.
In the crackdown,
the government has banned religious education for young people in mosques
, ordered that the call to prayer over loudspeakers be silenced, and sought to stamp out what it sees as Arab elements in mosques.