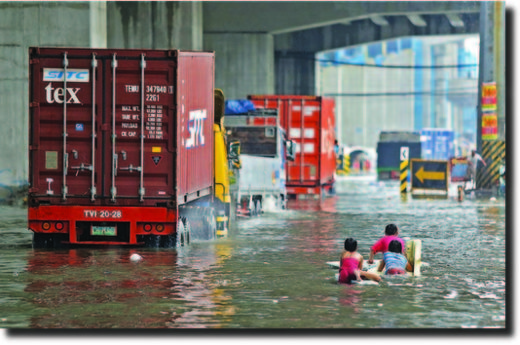 Incessant rains spawned by the prevailing southwest monsoon triggered flooding in most parts of Metro Manila and its adjacent municipalities on Tuesday, forcing the cancellation of classes and even suspension of work in some government offices.
The flooding, which caught passengers and motorists alike on the road and forced the government to preposition military trucks for public ferry services, occurred as state weather forecasters warned the bad weather may prevail until the weekend due to an incoming low pressure area.
The National Disaster Risk Reduction and Management Council reiterated its advisories for residents to stay away from areas prone to landslides and flooding, and for local government officials to implement forced evacuation if it is necessary.
The monsoon rains, which also affected provinces in Central and Southern Luzon and even Western Visayas, drenched Metro Manila, with police officials reporting flooding in some parts of Malabon, Caloocan, Navotas and Quezon City.
In Manila, a big stretch of Taft Avenue and its peripheries such Quirino, Padre Faura, Pedro Gil, Kalaw and Padre Burgos, were also flooded, prompting the Supreme Court and the city government of Manila to declare work suspensions.
Rizal provincial officials also reported flooding in some areas and in major thoroughfares in San Mateo and Antipolo City due to the southwest monsoon, which has been dumping rains for the past three days in Luzon and in Western Visayas whipped up by Tropical Depression Henry that left the country on Tuesday.
As most parts of Luzon suffer from the effects of the continued rains, forecasters warned the condition may extend for some more days due to the effects of the low-pressure area, although it is still far from Aparri, Cagayan, could turn into a typhoon.
While the bad weather stranded sea-going passengers in ports in Luzon and confined affected residents inside their homes, the NDRRMC reported it has yet to receive any report of casualty.
However, classes were also suspended in some provinces in Central Luzon and in Region 4-A and 4-B.
At least seven barangays in Sta. Cruz and Sablayan, Occidental Mindoro were also flooded, while at least four houses were destroyed by strong winds in Purok Balinghoy, Barangay Busay, Bago City, Negros Occidental.
The NDRRMC has prepositioned food packs through the Department of Social Welfare and Development that could be distributed to affected residents should they need emergency aid.
Meanwhile, the Philippine National Police (PNP) has activated its disaster response units to augment local PNP units in responding to the effects of the southwest monsoon.
According to Director Eduardo Serapio Garado, Director for Police Community Relations (DPCR) and chairman of the sub-committee on disaster management, the PNP supports the government's disaster risk reduction and management efforts in accordance with the PNP Critical Incident Management Operational Procedures (CIMOP).
Garado said PNP chief Director General Oscar Albayalde has directed the disaster response-capable units of the PNP that include the Special Action Force, Maritime Group, Highway Patrol Group, Police Community Relations Group, as well as the Regional Public Safety Battalions to coordinate closely with NDRRMC and local government units for possible enforcement of forced evacuation in flood-stricken areas due to heavy rains.
"This is one of those seasonal situations when the PNP is called upon to perform public safety operations to save lives," Garado quoted Albayalde as saying.