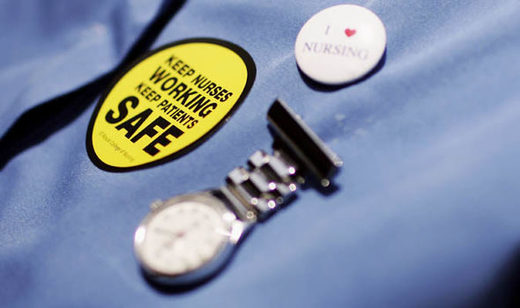 The number of patients in England who have been forced to wait six months or longer for NHS treatment has risen by nearly 70,000 in the space of a year, official figures showed, as experts warned not enough is being done to tackle the backlog that developed this winter.
More than 211,000 people have been waiting since before Christmas for operations or treatment -
an increase of 48 per cent on the same NHS England figures from 2017.
The Royal College of Surgeons said many of these people will be in "severe pain and discomfort" which could well be affecting their ability to work or cope with day-to-day tasks.
Over 3,100 patients have waited over a year, the NHS England figures show.
Cancer targets to ensure patients see a consultant and start treatment within two months of an urgent referral from their GP have also been missed - for the 29th month in a row.
The NHS waiting list stands at 4.1 million after an eight year funding squeeze
and an unprecedented winter which saw
thousands of non-urgent operations cancelled
to free up capacity for emergency care.
The figures are published in the same week that
Theresa May
appointed a
new health secretary Matt Hancock
and NHS groups said he has a significant job on his hands to address these issues.
A target of seeing 92 per cent of patients within 18 weeks of has not been hit since the start of 2016
and the latest May figures show 485,201 were waiting beyond this period.
The figures also showed that Accident and Emergency departments faced their second busiest month ever in June.
NHS at 70: Pride and worry as free health service celebrates birthday
There were 2,091,318 A&E attendances last month, while the highest ever was in May at 2,161,779 attendances.
Other referral to treatment statistics reveal that the Government's target of 92 per cent of patients being seen within 18 weeks remained
unmet for the 27th consecutive month.
February 2016 was the last time the target was hit.
The figures show that 88.1 per cent of patients were seen within 18 weeks, compared with 90.4 per cent during the same period last year.
Susan Hill, senior vice president of the Royal College of Surgeons and a vascular surgeon, said six months was "too long" for some patients to be waiting.
New health secretary received £32,000 from anti-NHS group chair
"It is extremely stressful for patients and their families to have to wait this long. These patients will be in severe pain and discomfort, possibly unable to work or carry out daily tasks," she added.
"Not enough has been said about how the NHS plans to deal with the backlog of patients that built up over last winter.
Hospitals must get their waiting lists under control

before the next winter creeps up and we find ourselves in an even worse position."
Executive medical director and chief operating officer of hospitals watchdog, NHS Improvement, Dr Kathy McLean said: "June was the second busiest month A&E has ever faced. It is testament to the non-stop work of NHS staff that performance held steady compared to the same time last year, seeing over 80,000 more patients within four hours than in June 2017.