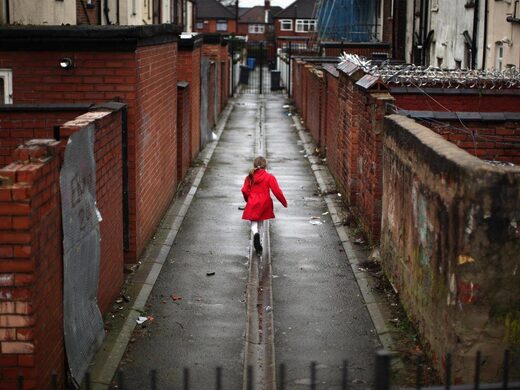 The number of children in poverty across the UK has surged by 100,000 in a year, new figures show, prompting calls for ministers to urgently review cuts to child welfare.
Government statistics published on Thursday show 4.1 million children are now living in relative poverty after household costs, compared with four million the previous year, accounting for
more than 30 per cent of children in the country
.
Compared to the overall population, children remained the most likely to be in relative poverty, at
almost one in three
compared with 21 per cent of working age adults and 16 per cent of pensioners.
The figures will fuel concerns that
benefit cuts
and tax credits under the Tory Government are seeing children hardest hit, with around one and a half million more under-18s
forecasted to live in households below the relative poverty line by 2022
.
Relative child poverty is measured as children living in homes where the income is 60 per cent of the median household income in the UK, adjusted for family size and after housing costs.
Separate
government statistics published on Thursday show
the number of households in temporary accommodation has surged 64 per cent
since the Tories came to power in 2010, of which more than 2,000 had children.
Responding to the rise in child poverty levels, Labour MP Margaret Greenwood, the Shadow Work and Pensions Secretary, said: "These figures show that after eight years of Conservative austerity, Labour's progress in tackling child poverty has been reversed with a shocking increase in the numbers of children living in poverty.
"No child should be forced to grow up in poverty. The next Labour government will make tackling child poverty an immediate priority."
Comment:
The Labour government oversaw numerous illegal wars on the Middle East and
Serbia
, and their track record for dismantling the public sphere is equally shameful.
Chief executive of The Children's Society Matthew Reed said the "shocking" statistics must "spur the Government into decisive action" to help the millions of children now living in poverty across the country.
He continued: "Growing up in poverty can affect every aspect of a child's life: their home, health, education, family relationships and even friendships.
"These figures show the toll that
systematic cuts to welfare, including the freeze on children's benefits
, have taken on low-income families and the Government must now urgently review this freeze."
Child Poverty Action Group (CPAG)'s chief executive, Alison Garnham, accused the Government of being "in denial on child poverty", urging that if it is to "make good" on its pledge of support for struggling families, ending the freeze on benefits for working and non-working families must be a priority.
"It's bad enough that for a second year running our child poverty rate is at 30 per cent, largely driven by social security cuts, but for hard-pressed families
there is worse to come
," she said.
Ms Garnham added that the four-year freeze on children's benefits implemented two years ago was hitting family budgets "very hard", with child benefit alone set lose 23 per cent of its value over the decade.
The Government highlighted that despite a decline in relative poverty among children, the figures also show that rates of
absolute
child poverty - which measures what people are living on in relation to a fixed median income in the past - currently pegged to 2010-2011, has fallen.
Minister for family support, housing and child maintenance Kit Malthouse said: "It's fantastic news that one million fewer people are living in absolute poverty than in 2010, including 300,000 children.
"It makes sense that poverty rates are falling while the employment rate is increasing, and today's figures confirm that work remains the best route out of poverty.
"We know there is more to do to ensure that every child gets the very best chances in life. Our welfare reforms offer parents tailored support to move into work, ensuring that even more families can enjoy the opportunities and benefits that work can bring."
But Ms Garnham argued that
absolute poverty should always be falling, and that that's the "bare minimum" one can expect, adding: "Focusing on absolute poverty tells us nothing about how many people are drifting further away from the middle today.
"The problem we have is that four million children are in poverty, and some of the children due to be hit hardest by cuts - those in single parent families or families with more than two children - are seeing their risk of poverty rise."
She said a "serious policy response" was required to fill the current policy vacuum on child poverty and children's life chances, warning: "Today's figures should sound a warning bell that if we fail to invest in children we will damage the life chances of a generation and the long-term prosperity of the country."
Housing figures also published on Thursday suggest the rise in poverty rates is having an impact on homelessness, with the latest statistics showing almost
790,000 families are living in temporary housing
because they didn't have a permanent home,
compared with

48,010

in the same period eight years before.
The rise, which coincides with increasing rents, welfare changes and a shortage of affordable homes, has been branded "unacceptable" by campaigners, who warn that temporary accommodation can have a "devastating" impact on people's lives and mental health.