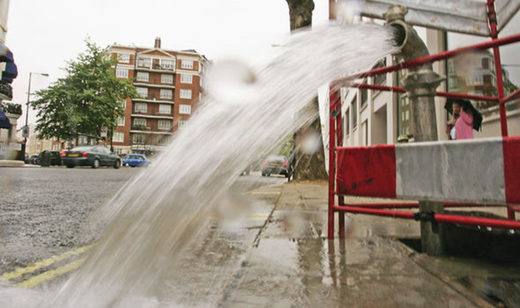 In a new report, the Environment Agency stated three billion litres of water is equivalent to the usage of 20million people.
The agency starkly warned of significant water shortages in future years as the UK population continues to grow.
The warning of a potential future water shortage comes as Britain has been hit with sweltering heat this year, with temperatures expected to reach highs of 30C over the bank holiday weekend.
Comment:
It's also been pretty
stormy
for this time of year too.
This has prompted bookmaker Coral to cut its odds on this year being the hottest on record.
The company's Harry Aitkenhead commented: "Any spell of warm weather often prompts bets on the hottest year of all time but with the temperatures soaring once again we have now taken an unprecedented amount of bets on 2018 entering the record books.
"We have had no choice but to make it odds on."
An increase in the temperature is likely to exacerbate the problem as households use more water for filling up paddling pools and watering flower beds in gardens.
Emma Howard Boyd, the chair of the Environment Agency, said: "We need to change our attitudes to water use.

Comment: Ban paddling pools? Flowers? Should we shower once a week? It wasn't long ago that the UK, renowned for its grey skies and relentless rain, implemented a hose pipe ban.


"It is the most fundamental thing needed to ensure a healthy environment but we are taking too much of it and have to work together to manage this precious resource.
"Industry must innovate and change behaviours in order to reduce demand and cut down on wastage - and we all have a duty to use water more wisely at home."
Ms Boyd then called on companies to address leakage issues as part of a desperate effort to keep up with increased water demand.
The population of England is predicted to rise to 58.5million by 2026.
She went on: "With demand on the rise,
water companies must invest more in infrastructure to address leakage
instead of relying on abstraction and the natural environment to make up this shortfall."
The Environment Agency's report added roughly
33 per cent of water taken from the natural environment is wasted from infrastructure related issues.

Comment: This is the real issue: lack of investment from greedy private companies who see no profit in maintaining a vital public resource.


Water taken from the environment for households, industry and agriculture was judged to be unsustainable for over 25 per cent of groundwater resources in 2017.
This means between
six and 15 per cent of rivers were not in good environmental condition last year.
Wildlife can severely be affected if too much water is taken from the environment.
The agency's report also horrifying warned the spread of diseases can intensify during periods of droughts and higher temperatures.
Dengue fever and West Nile virus were two of the potential diseases mentioned in the report.
Breathing problems can also ensue from the increased presence of dust during periods with little water.
Levels of stress and anxiety also typically increase during times of drought.
The agency report also insisted action needs to be taken to reduce the demand of water while increasing supplies.