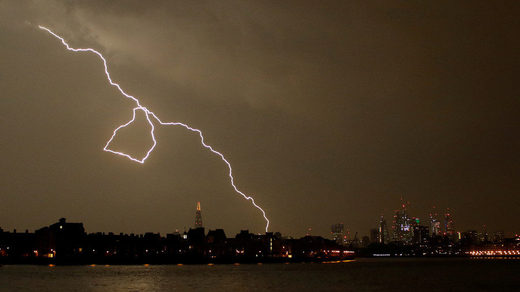 The UK has been hit by up to 20,000 lightning strikes in a massive electrical storm that swept the country on Saturday night. Incredible photos and footage show stunning purple skies illuminated by intense bursts of light.
The violent thunderstorm blasted parts of southern Britain following a humid day of 27 degrees celsius temperatures. Met Office meteorologist Charlie Powell
said
there were somewhere between 15,000 and 20,000 strikes overnight.
Dramatic shots of the lightning strikes were shared across social media as onlookers expressed their awe at the intensity of the storm.
Torrential rain accompanied the thunderstorm, creating chaos for motorists. London Fire Brigade said it received more than 500 weather-related calls, most of them due to flooding.
There have also been reports of properties being struck by lightning. Firefighters attended a blaze at a house in Stanway, Essex after a lightning bolt caused its roof to go on fire.
Nearly 1,000 properties were left without power across the midlands as a result of outages caused by the storm.
Meanwhile,
flights from Stansted Airport have been disrupted after the fuelling system was damaged by a lightning strike.
The system has now been restored but the airport says
flights may still be subject to delays or cancellation.
Passengers have voiced their frustration at the lack of information being relayed to thousands of customers stranded at the airport.
Thunderstorms will continue to affect parts of Wales, southern and central England through Sunday and into Monday morning, according to the
Met Office
. Residents are being warned that homes and businesses could be damaged by flooding and lightning strikes.